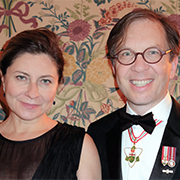 Michael and Amira Dan
Michael (MD 1984)
Amira (MA 2004)
Dr. Michael Dan and Dr. Amira Dan's visionary gift to realize the Waakebiness-Bryce Institute for Indigenous Health is aimed squarely at closing the gap in health outcomes between Indigenous and non-Indigenous Canadians.
Dr. Michael Dan and Dr. Amira Dan are driven by a deep commitment to human rights and social justice. In particular, the couple have been generous and committed leaders in helping to address the social and economic inequalities that weigh on Canada's Indigenous peoples.
After obtaining his MD degree from the University of Toronto in 1984, Michael completed a neurosurgery residency and a PhD in experimental medicine at McGill University. He was an assistant professor of neurosurgery at LSU Medical Center, New Orleans, for five years, then returned to Toronto in 1995 as CEO of Novopharm Biotech Inc., a publicly-traded drug discovery company. In 2000, the family business, Novopharm Ltd. (which was founded by Michael's father, Leslie L. Dan, BScPhm 1954, MBA 1959), was sold to Teva Pharmaceuticals, and Michael embarked on a career in hydroelectric power development and philanthropy.
In 2003 Michael created the Paloma Foundation to support organizations that assist marginalized people in Toronto. Together with his wife, Amira, a scholar of Jewish studies at York University, he funded the Michael and Amira Dan Professorship in Global Health in 2009, the Michael and Amira Dan Fellowships in Neurosurgery in 2012, and the University of Toronto Brain Tumour Bank in 2013.
The Dans, along with researchers and academic leaders at U of T, recognized that the large number of brain tumour patients treated at U of T-affiliated hospitals offered an unparalleled opportunity to collect and study tissue samples. The innovative new facility, housed at the Faculty of Medicine, will enable researchers in the U of T health sciences network to more effectively diagnose and treat individuals with brain tumours—progress that will prolong and save tens of thousands of lives in Canada and around the world in the years ahead.
Between 2006 and 2013, Michael worked closely with the Lac La Croix First Nation in northwestern Ontario on a hydroelectric project. After numerous visits to the community, Michael became an advocate for Indigenous health issues. In 2015, Michael and Amira made a landmark gift of $10 million to endow the Waakebiness-Bryce Institute for Indigenous Health at the Dalla Lana Faculty of Public Health, the first privately-endowed research institute in the world that is addressing the unique health needs of Indigenous people.
Waakebiness is the spirit name given to Michael by the elders of Lac La Croix in 2011. It means "radiant thunderbird from the south." The institute is co-named for Dr. Peter H. Bryce, also a graduate of the University of Toronto, and a pioneer of public health in Canada. In 1922, Bryce was the first civil servant to call public attention to the epidemic of tuberculosis then raging throughout residential schools, calling it a "national crime." Sadly, none of his recommendations to control the spread of TB were implemented by the Department of Indian Affairs.
Michael has also given generously of his time, chairing the Faculty of Medicine Campaign Cabinet since 2012. With his many contributions to the University and to the community, Michael follows the inspiring example of his father, Leslie Dan.
Michael received the Order of Ontario in 2014 and was named a Member of the Order of Canada in 2016. He is also an Officer of the Order of St. John, and a proud supporter of the St. John Eye Hospital in Jerusalem, the Canadian Museum for Human Rights in Winnipeg, and the Scarborough and Rouge Hospital.