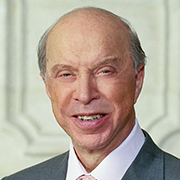 Leslie and Anna Dan
Leslie (BScPharm 1954, MBA 1959, Hon DSc 1997)
Driven by a passion for innovation and a vision for the practice of pharmacy in the future, Leslie and Anna Dan have helped turn the Leslie Dan Faculty of Pharmacy into a research powerhouse that educates leading professionals in the field.
Shaped by his experience as a post-war refugee, Leslie Dan has always felt a moral imperative to help others in need.
Dan was among the earliest graduates of U of T's newly created bachelor's degree program in pharmacy, and he was the first person to hold both a pharmacy degree and an MBA from the University. A remarkable entrepreneur and humanitarian, Dan delivered life-saving medical supplies to Eastern Europe early in his career. Novopharm, the company he founded, became the world's largest manufacturer of generic pharmaceuticals, making less expensive medicines available in communities around the world. His most recent venture, Eleven Biotherapeutics, is focused on finding and developing new treatments for cancer.
Dan's visionary outlook also informs his philanthropic efforts. He and his wife Anna have been generous supporters of charitable organizations across Canada, including Mount Sinai Hospital, the Baycrest Foundation, Casey House and the Royal Conservatory of Music. Through Novopharm, medical supplies worth millions of dollars have been sent to doctors, pharmacists and nurses working with charities in developing countries. Leslie's three children, Michael Dan, Aubrey Dan and Andrea Dan-Hytman, are also prominent philanthropists.
Leslie and Anna Dan have demonstrated a profound commitment to U of T. Their $13-million contribution in 2001 for the naming of the Leslie Dan Faculty of Pharmacy is a highlight of more than two decades of generous volunteer and financial support. That donation helped propel the pharmacy program at U of T from top in Canada to among the best in the world, and also supported the construction of an extraordinary new building for the Faculty at Queen's Park Crescent and College Street.
While bringing the Faculty together in one state-of-the-art facility and improving the quality of education, the new building also made it possible for undergraduate enrolment to double and graduate enrolment to triple. This growth is essential, given the increasingly important role played by pharmacists in today's interdisciplinary health-care teams. The Dans' support has also helped equip the faculty to blaze new trails in cancer research, regenerative medicine, molecular biology, health economics and policy, global health and nanotechnology.
Because of this generosity and vision, the Leslie Dan Faculty of Pharmacy is shaping a new generation of highly educated professionals who will be ready to play leading roles at the forefront of pharmaceutical discovery, development and practice.