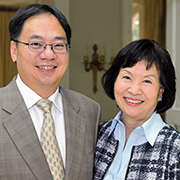 Lee and Margaret Lau
Lee (BASc 1977, MEng 1982)
Margaret and Lee Lau's contributions to U of T over many years include generous support across three faculties and extensive volunteer commitment.
Lee Lau is a proud double graduate in electrical and computer engineering. Three years after graduating with his master's degree, he founded ATI Technologies Inc., a supplier of computer graphics chips and boards. In the 1980s, as the global demand soared for computer cards that could display high-quality graphics, the race was on to produce hardware that was progressively more versatile and powerful. During this time, ATI took advantage of this demand and grew to become one of the top two suppliers of computer graphics hardware in the world. Lee is also co-founder of Alignvest Capital Management, a private investment company based in Toronto and New York.
Margaret and Lee Lau have a long history of significant contributions to the University of Toronto, totalling more than $11 million. Their contributions include gifts for the expansion of the Rotman School of Management and for the creation of the Myhal Centre for Engineering Innovation & Entrepreneurship and the Bahen Centre for Information Technology. The couple's giving also includes student scholarships, an endowed chair in the Edward S. Rogers Sr. Department of Electrical & Computer Engineering, and biomedical research at the Faculty of Medicine.
In addition to their philanthropy at U of T, the Laus generously support many Toronto-area hospitals, foundations and educational institutions at both the secondary and post-secondary level, establishing them as leading supporters of education, health and well-being across the community.