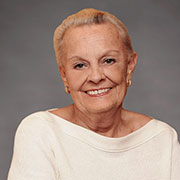 Edward S. Rogers and Loretta A. Rogers
Edward (BA 1956 TRIN, LLB 1961 Osgoode, Hon LLD Western 1996, Hon DSL 1997 TRIN, Hon LLD 2002, Hon LLD TMU 2004)Loretta (Hon LLD 2018, Hon LLD Western 1996, Hon LLD TMU 2004)
Through many years of generous philanthropy, Ted and Loretta Rogers greatly enhanced engineering scholarship at U of T and supported thousands of students.
Edward (Ted) S. Rogers (1933-2008) was a Canadian broadcasting pioneer who, over a 48-year career of 18-hour workdays and shrewd deal making, transformed a single Toronto radio station into the telecommunications giant Rogers Communications. The company is a major employer across the country with media and entertainment properties—from broadcast media to lifestyle magazines to professional sports teams—that are a part of the daily fabric of Canadian life.
Ted and his wife Loretta Rogers (1939-2022) made major contributions to health care and education with beneficiaries that include Toronto Metropolitan University (TMU), Western University, and University Health Network (UHN). Mrs. Rogers held a BA from the University of Miami, an honorary Doctor of Laws from the University of Toronto, and honorary doctorates from the University of Western Ontario, and Toronto Metropolitan University. Mr. Rogers held honorary doctorates from many institutions, including TMU, Western and the University of Toronto.
In 2000, they gave $25 million to establish two research chairs at the University of Toronto—the Edward S. Rogers Sr. Chair in Engineering and the Velma M. Rogers Graham Chair in Engineering—and to endow graduate and undergraduate scholarships, which, to date, have supported close to 2,000 students.
In recognition of this gift, the Faculty of Applied Science & Engineering named the electrical and computer-engineering department in honour of Ted Rogers' father—Edward S. Rogers Sr.—who was a student in the department from 1919 to 1921.
The couple also generously supported Trinity College, which named its library in honour of Ted's stepfather, John W. Graham.
These remarkable benefactions, which have transformed research and enriched student life, speak to the incredible legacy of Ted and Loretta Rogers at the University of Toronto. They stand alongside the Rogers Foundation's landmark contributions of $220 million to the Ted Rogers Centre for Heart Research. These gifts, one of the most significant philanthropic investments in Canada's history, are revolutionizing the way we approach heart health in Canada.