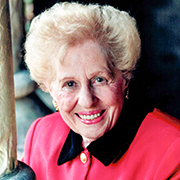 Anne Tanenbaum
Hon LLD 1996
Anne Tanenbaum demonstrated generosity and care for her fellow citizens through transformational gifts in Canada and abroad, benefiting medical research, health care, culture and education.
As a 12-year-old living in the Bronx in New York, Anne Tanenbaum (1909-2008) once gave her family's milk money to a man who came to the door and said he couldn't feed his family. Asked by her father why she gave away all the money and not a portion, she said she had no choice since the man had five children. This compassion and desire to help others became a defining feature of her life.
In 1924, her family moved to Toronto where Anne met her husband, Max Tanenbaum, who had dropped out of school at 13 to work in his family's scrap metal business. Max would go on to build a business empire in steel and construction. The couple's growing success enabled Anne to build a legacy as a leading philanthropist.
In the 1980s, she began giving to important institutions and causes, including the Anne & Max Tanenbaum Community Hebrew Academy of Toronto, the Baycrest Foundation, Mount Sinai Hospital, the Art Gallery of Ontario, York University, Shaare Zedek Hospital, the Canadian Opera Company, and Ben-Gurion University of the Negev.
Anne Tanenbaum was also a dedicated supporter of the University of Toronto. In 1996, she gave $10 million to create the Anne and Max Tanenbaum Joint Chair Program in honour of her late husband. This gift, which extended across U of T's network of research and clinical partners, created six chairs in the burgeoning fields of neuroscience and molecular medicine, part of Tanenbaum's support for advancing research in Alzheimer's disease.
Tanenbaum passed away at the age of 99, and her legacy to U of T has continued through the leadership of her son, Larry, and grandson, Ken, who championed the creation of the Anne Tanenbaum Centre for Jewish Studies. Anne's commitment to the cherished principle of "l'dor vador," from generation to generation, has been embraced by her children and grandchildren.
A gift from the Estate of Anne Tanenbaum, together with a leadership contribution from the Lawrence and Judith Tanenbaum Family Foundation and gifts from many other leaders in the Jewish community, has enhanced the scholarship of the Anne Tanenbaum Centre which not only offers a leading undergraduate program, but is also home to collaborative graduate programs at the master's and PhD levels, providing a framework for training and increased scholarly dialogue across historical periods and geographical regions.
Through her many selfless acts and benefactions to health research, education and culture, Anne Tanenbaum's leadership and commitment during her life continue to make a profound difference by saving lives, reducing suffering and enriching our shared human experience.