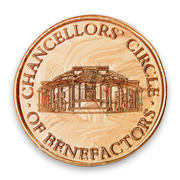 William Waters and Phyllis Waters
William (BA 1960 WDW, MBA 1962, Hon LLD 2004)
Champions of music and the arts, William R. (Bill) and Phyllis J. Waters' commitment to removing barriers to higher education is enabling countless U of T students realize their dreams.
Bill Waters' philanthropy was a testament to the power of education to change lives. Moved by stories of personal hardship, Waters (1932-2021) made it his mission to help students overcome academic or economic barriers to attaining a university education. Most notably, following a conversation with a restaurant server studying to become an opera singer, he donated $2.5 million to U of T's Faculty of Music to help alleviate the financial challenges facing music graduates. That server, Ariana Chris, went on to sing with the New York City Opera and at the closing ceremonies for the 2010 Winter Olympics.
Waters earned his first degree in economics and political science as a part-time mature student. An MBA from U of T and a PhD in economics and finance from the University of Chicago followed, as well as an illustrious academic and business career.
He was the co-founder of two highly successful companies involved in the creation of software for the financial services industry and he taught at the Rotman School of Management for many years, serving as the first academic director of its Executive MBA program, and on retirement earning the title of Professor Emeritus of Economics and Finance.
Together with his wife Phyllis, Bill Waters was a generous and long-time supporter of the University. The couple donated more than $8 million in support of a broad number of programs and projects including the Transitional Year Programme and Woodsworth College, as well as the faculties of Music and Arts & Science, and the Rotman School of Management. The Waterses supported OISE's William Waters Annual Symposium on Urban Education beginning in 2009, and the William Waters Scholarships, launched in 2011, help several urban classroom teachers each year to study for a master's degree. The couple also donated to Ryerson University, Michael Garron Hospital and Toronto Summer Music. Bill Waters was named to the Order of Canada in 2013.
Bill Waters bestowed opportunity on generations of U of T students, transforming their lives through the precious gift of education.