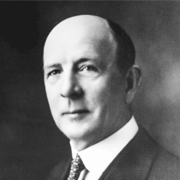 Wallberg Family
Spanning an entire city block, the impressive Wallberg Memorial Building has provided teaching and research labs for chemistry and chemical engineering students and faculty for nearly seven decades.
During the early years of the 20th century, there was increasing demand for infrastructure and products to support the development of railways and hydroelectric and mining projects in Canada. As a young engineer without a family to support, Emil Wallberg seized opportunities as they arose, leading to a fruitful career as a structural designer, contractor and business owner. When he died suddenly in 1929 at the age of 61, he left behind significant wealth and a string of what his biographer termed "great financial and industrial adventures"—contributions to the Canadian industrial landscape.
Wallberg bequeathed the greater part of his estate to his sister, Ida Marie Wallberg, who died at her home in Toronto four years after her brother's passing. In her will, she made a significant bequest to the University of Toronto in memory of Emil's accomplishments in engineering. These included the Cape Race lighthouse in Newfoundland and the Hurdman Rail Bridge in Ottawa, a seven-span reinforced concrete arch structure that was one of the first of its type in Canada. He was also the founder of the Canada Wire and Cable Company.
The University used Ida Marie Wallberg's bequest to support the construction of a new building along College Street, which they named in Emil Wallberg's memory. Completed in 1949, the Wallberg Memorial Building contained state-of-the-art labs for the Departments of Chemistry and Chemical Engineering. When it opened, it was described by The Globe and Mail as "one of the finest on the continent."
The Chemistry department relocated in 1963, but the Chemical Engineering department continues to benefit from the use of the Wallberg Building today.