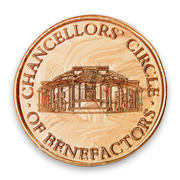 The Rotman Family
Sandra (BA 1975 WDW, Hon LLD 2007)
Joseph (MCom 1960, Hon LLD 1994)
The Rotman family is one of the most generous benefactors in the University's history, with a tremendous legacy of philanthropic and volunteer support that has propelled the Rotman School of Management to the vanguard of the world's top business schools.
Joseph L. (Joe) Rotman (1935-2015) was one of Canada's leading businessmen. He was the founder of many companies, including Roy-L Capital Corporation, Tarragon Oil & Gas and Clairvest Group Inc. He served on the boards of Bank of Montreal, Barrick Gold Corporation, and numerous energy firms.
Sandra and Joe Rotman were leading philanthropists and community leaders. The couple directed their time, energy and generosity to important causes, including health, culture and research. Their diverse contributions include establishing the Rotman Research Institute, a premier international centre for the study of human brain function located at Baycrest Health Sciences, and several important projects with the University Health Network.
The Rotmans are perhaps most closely associated with education, and in particular with management education at the University of Toronto. The family is among the University's most generous supporters with contributions totaling $76 million and a further $29 million to health-care institutions affiliated with the University. From 1993 to 1997, they provided groundbreaking donations to help build the Rotman School of Management and made significant additional contributions to the school subsequently. After Joe Rotman passed away in 2015, a landmark gift of $30 million from his estate, with matching funds from the University, created the $45-million Rotman Catalyst Fund. It was conceived by Joe with leaders of the School shortly before he died as a "venture fund" that could support potentially game-changing initiatives. Most recently, the Rotman family made another landmark commitment to support the Rotman School's Centre for Health Sector Strategy. The centre, which has built a reputation as a leader in research, education and policy-making in health-care and life-sciences strategy, was renamed the Sandra Rotman Centre for Health Sector Strategy.
Other examples of visionary support for the community through U of T include the creation of the Sandra A. Rotman Chair and Program in Neuropsychiatry. The joint appointment between Baycrest and U of T is advancing our understanding of the mechanisms and treatment of depression. Sandra is also the founding donor and a board member of Rise Asset Development, which supports aspiring entrepreneurs who face addictions or mental health challenges. Rise is a partnership between the Rotman School and the Centre for Addiction and Mental Health.
The Rotman family's impact as volunteers is just as extraordinary. Among his many activities, Joe Rotman advocated for excellence in life-sciences research and served in leadership roles at leading health-care and research institutions. He was also passionate about culture, serving as the chair of the Canada Council for the Arts. He was named an Officer of the Order of Canada in 1995 and a Companion of the Canadian Business Hall of Fame in 2009. Other recognition of his leadership includes honorary degrees from U of T, Western University and Memorial University of Newfoundland.
Sandra Rotman's service to the community is equally distinguished. Through various senior volunteer roles, she has provided leadership to organizations dedicated to education, health, culture and heritage. She is a Member of the Order of Canada and the Order of Ontario and has received an honorary degree from U of T in recognition of her exemplary volunteer work.
The Rotmans have passed their philanthropic spirit on to their children Kenneth, Amy and Janis, who have made significant gifts to U of T-affiliated institutions in the areas of mental health, elder care and paediatrics, including: The Hospital for Sick Children, Toronto General and Western Hospital Foundation, Holland Bloorview and the Centre for Addition and Mental Health.
Amy, who earned a PhD at U of T in 2003, is a Board member of SickKids Foundation. She and Ken drove the creation of the Allergy Research Institute at SickKids. Ken is CEO of Clairvest and has been a board member of several organizations including UHN and the Canadian Opera Company.
Janis serves as President and CEO of The Rotman Family Foundation and was recently honoured by Holland Bloorview with the naming of the "Janis Rotman Reception Hall"—a tribute to her long-time support and devotion to the hospital and its programs. Alongside her mother Sandra, Janis works on RISE. She is their largest private donor. Janis also generously supports exhibitions and programs at the Art Gallery of Ontario and Gardiner Museum.
The prodigious vision of the Rotman family has helped transform U of T. Their example continues to inspire us to build a better civil society and pursue the ideas, values and ventures that make Canada competitive on the global stage.