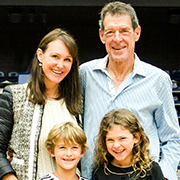 The Kimel Family
The remarkable generosity of Ron Kimel and the Kimel family has helped establish a world-class athletic and sport medicine facility in the heart of St. George campus.
Ron Kimel (BA 1966  UC, DBA 1967) is a respected leader, both in business and in the community. A graduate of the University of Toronto, Kimel is the director of Westdale Construction Co. Ltd. and Westdale Properties and the chairman of Urbanfund Corp., a real estate development and operating company based in Toronto.
The philanthropic interests of Ron Kimel and the Kimel family have made a significant impact on communities in and around Toronto. For example, Kimel has served as a director of the Holland Bloorview Kids Rehabilitation Hospital Foundation, which also received a donation of $3 million from the Ron Kimel Foundation Trust to fund research in support of children with disabilities.
At the University of Toronto, the Kimel family's generous donation of $10 million in 2014 made possible the Kimel Family Field House, a groundbreaking indoor basketball and volleyball facility that is an integral part of the Goldring Centre for High Performance Sport.
This cutting-edge indoor field house contains a competition court with 2,000 spectator seats on all four sides, a second full-sized practice court with retractable seating, a state-of-the-art interactive scoreboard, and an air circulation system for climate control that makes the facility suitable for year-round use. The field house also plays an important part in the Varsity Centre's focus on sport science research and teaching, sport medicine, training and coaching athletes, and preparing for world-class competition.
The generosity of the Kimel family has had far-reaching effects at the University of Toronto and in the broader community. Bringing people together so they can participate in athletic events, or cheer on others, can help them build closer bonds with one another—and with U of T. Those bonds can endure for generations, leading to profound alumni connections that will make the University even stronger over time.