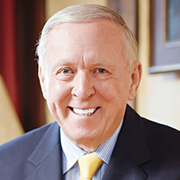 Terrence Donnelly
Hon LLD 2003
Terrence Donnelly has been a committed champion of Canadian health care with his visionary leadership in support of medical education and groundbreaking research.
Terrence Donnelly grew up and attended school in London, Ontario. He earned an honours degree in business administration at the University of Western Ontario, and was a medalist of his class at Osgoode Hall Law School.
As a young lawyer and founding partner at the law firm Donnelly & Daignault, Donnelly helped Kentucky Fried Chicken founder Colonel Harland Sanders close a deal on a house in Mississauga. The two became lifelong friends, and Donnelly served on the board of directors of KFC as the chain expanded from 50 to 750 locations in Canada.
Donnelly credits Sanders for shaping his philosophy about philanthropy and the importance of leaving a meaningful legacy. When Donnelly retired after a successful career in law and business, he began looking for a way to make a difference in the field of health care.
To date, Donnelly has made three significant gifts that have transformed the University of Toronto. His first gift in 2002 helped establish the Terrence Donnelly Centre for Cellular and Biomolecular Research—a research powerhouse that is revolutionizing our understanding of human biology and helping to unlock the potential of genomics and regenerative medicine to improve health.
In 2011, Donnelly's second gift helped construct the Terrence Donnelly Health Sciences Complex at U of T Mississauga and provide much-needed bursaries and scholarships for medical students studying at the Faculty of Medicine and the Mississauga Academy of Medicine. The academy, which is housed within the four-storey Donnelly Complex, is helping address Canada's critical shortage of doctors.
The third gift, made in 2017, speaks to Donnelly's belief that fundamental science is the best avenue for researchers to work together to decipher the biology behind the world's most devastating diseases. The gift is designed to help the Donnelly Centre recruit more of the world's top researchers and create new spaces where they can collaborate with the biotech industry.
Together, these strategic gifts are fuelling U of T's global leadership in health-care education and basic science.
Donnelly is equally charitable with his time, energy and expertise. He has an office at the Terrence Donnelly Centre for Cellular and Biomedical Research. He knows nearly all 450 researchers who work in the building by face, if not by name. He visits their labs, reads their scientific papers, and cheers on every breakthrough. He also provides invaluable counsel to the University at large through his volunteer work on the Boundless Campaign Executive, the Faculty of Medicine Campaign Executive, and the U of T Mississauga Campaign Cabinet.
Beyond U of T, Donnelly has provided pivotal support to many other health-care institutions, including Toronto's St. Michael's Hospital and London's Victoria Hospital. Internationally, he has supported research at the Institute of Cancer Medicine at Oxford University in the UK. In 2014, he was admitted into the Order of Canada "for his philanthropic contributions to health care and medical research."