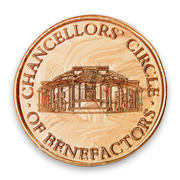 Stephan and Sophie Lewar
Moved by the death of their son and an inherent philanthropic drive, Stephan and Sophie Lewar supported the University's pursuit of cardiovascular health for all Canadians.
Born and raised in Warsaw, Poland, Stephan Lewar (1913-2004) was a Holocaust survivor who immigrated to Canada after the Second World War with his wife Sophie (d. 2003). Drawing on his background in economics, Lewar built a successful career as a real estate investor, venture capitalist and financier. In 1998, however, tragedy befell the couple as their only child Richard died of a heart attack at the age of 41.
The Lewars decided to donate their son's inheritance to charitable organizations, including the University of Toronto, hospitals, the United Way of Greater Toronto, the Jewish Immigrant Aid Services of Canada, the United Jewish Appeal and Richard's alma mater, Carlton University.
In 1999, they honored their son's memory with a generous donation of $6 million to fight the disease that cut short his life. Along with a donation of $13 million from the Heart & Stroke Foundation of Ontario, they helped create the Heart & Stroke/Richard Lewar Centre of Excellence in Cardiovascular Research at the University of Toronto.
The funding enabled the centre to broaden the scope and impact of its activities. Today, the Lewar Centre brings together the best of cardiovascular sciences at the University and its teaching hospitals to pursue groundbreaking research and education on cardiovascular diseases.
The couple also generously supported other important initiatives at U of T, including bursaries for students in financial need and the President's Fund for Excellence, which gives discretionary funds to respond quickly to pressing needs. Stephan Lewar received the Order of Ontario and Order of Canada for his visionary philanthropy.
With their signature gift, Stephan and Sophie Lewar were determined to produce tangible benefits for people suffering from heart disease. Through innovative research and education programs, the Heart & Stroke/Richard Lewar Centre of Excellence in Cardiovascular Research is committed to realizing this important vision.