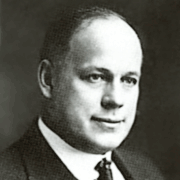 Sir John and Lady Eaton
A historic gift from Sir John Eaton, the second president of the Canadian department store empire, and his wife, Lady Flora Eaton, was essential in establishing U of T as the home of one of the world's leading medical schools.
The youngest son of Timothy Eaton, Sir John Craig Eaton's creative business mind helped him rise through the ranks of his father's department store business. He was a director at age 22, a vice-president at 24, and he succeeded his father as president in 1907 at the age of just 31. A driving force behind Eaton's expansion across Canada, John Eaton established the first branch store and a mail-order office in Winnipeg in 1905 to serve new customers in the country's emerging western provinces.
Under his stewardship, the T. Eaton Company committed more than $2 million to ensure that its 3,300 employees who were serving abroad during the First World War would continue to draw full or partial salaries. He also founded the Eaton Boys and Girls Clubs and offered scholarships through the Young Men's Christian Association and Ontario College of Art, initiatives that earned him a knighthood in 1915. Together with his mother, John Eaton donated land and funds for the construction of Toronto's magnificent Timothy Eaton Memorial Church.
His wife, Lady Flora Eaton, took an active role in the company, serving on the board, and overseeing the development of restaurants in the Eaton's stores. She was also very active with local charities and allowed Eaton Hall, the family's summer residence in King City, to be used as a military hospital for Canadian soldiers during the war.
The Eatons were instrumental in establishing the University of Toronto as a centre of medical study and research. Together with his wife Flora, John Eaton created the Sir John and Lady Eaton Professorship of Medicine in the Department of Medicine at U of T's Faculty of Medicine in 1919, the first full-time chair of clinical medicine in the British empire. The chair was an important step towards modernizing medical education in Canada, making it possible for students to acquire a sound understanding of both scientific methods and the biological foundations of disease.
Today, U of T's Temerty Faculty of Medicine is ranked among the world's top faculties of medicine, at the forefront of life-changing research and innovation in the health sciences.