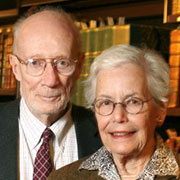 Russell Morrison and Katherine Morrison
Russell (MA 1947, Hon LLD 2004)
Katherine (PhD 1979, Hon LLD 2004)
Every great university requires great libraries and study spaces and no benefactors did more than Russell and Katherine Morrison to raise the quality of those spaces for students at U of T.
Russell Morrison (1923-2016) was born in Saskatoon and earned his BA from the University of Saskatchewan and his MA in economics from U of T. He taught economics for two years at Vanderbilt University in Tennessee before joining the investment industry in 1953. He has been celebrated as one of the best investors in Canada, managing hundreds of millions of dollars in mutual funds.
Katherine Morrison (1925-2019), who also studied economics, earned a PhD in English at U of T, taught literature courses at the University, and authored several books. In 1979, the couple established the Morrison Foundation, which supported the University of Toronto, the University of Saskatchewan, Queen's University, Frontier College and Pathways to Education.
Katherine Morrison was among the first generation of students to use Robarts Library, which opened in 1973, and she recalled practically living there during her graduate studies. That first-hand appreciation for the importance of libraries shaped the couple's philanthropy as they were among U of T's most generous benefactors with donations totaling $40 million.
Throughout the early 2000s, the Morrisons made a series of tremendously meaningful gifts focused on libraries and student experience. The opening of the Morrison Pavilion doubled the student space at the Gerstein Science Information Centre, Canada's largest academic science and medicine library. Later, University College was able to build Morrison Hall, its first new student residence in almost 50 years.
In 2008, the Morrisons supported the renovation of the Robarts Library with a $10-million gift—the largest private donation ever for the renewal of a library in Canada. They made another significant benefaction two years later to support construction of Robarts Common, a five-storey addition to the main library.
The University awarded Russell and Katherine Morrison honorary degrees in 2004, in recognition of their tremendous dedication to students and higher education. Ten years later, Russell Morrison was invested into the Order of Canada. Today, the couple's visionary legacy continues to provide U of T students with the spaces, technology, collections and services befitting a world-class university.