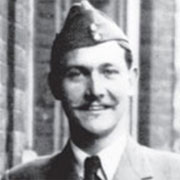 Raymond Pryke
BA 1951 TRIN
Despite living most of his adult life in the United States, Raymond Pryke never forgot his alma mater, Trinity College, where his generosity created an endowed chair for the Trinity One program.
Raymond Pryke (1923-2015), a graduate of Trinity College, lived in Toronto for a short time before pursuing a successful career as a land developer in California's High Desert region. Pryke, despite living far from Toronto, never forgot his alma mater, donating more than $5 million to the University.
Born in England, Pryke misrepresented his date of birth by some nine months to join the British Home Guard. He would go on to serve in the Royal Air Force before coming to Canada to pursue his degree at Trinity. He subsequently lived in Mexico for a short period before moving to Los Angeles and building a successful real estate and land development firm. As his development firm grew, so did his concurrent interest in publishing.
Over time, Pryke founded, owned, published or acquired 10 newspapers, collectively known as Valleywide Newspapers, based in Hesperia, California. He used the power of the press to fight what he saw as corruption in the communities his newspapers served, and in later years, he was a benefactor of free press and First Amendment causes.
Pryke sat on the board of the First Amendment Coalition, an award-winning, non-profit public interest organization dedicated to advancing free speech, more open and accountable government, and public participation in civic affairs. In 2011, Pryke gave the UC Irvine Law School a US$1.5-million gift to establish an endowed chair in First Amendment law.
Impressed by the "excellence and vision" of the Margaret McMillan Trinity One program, he made a gift in 2010 to create the Raymond Pryke Chair in the program on a limited term. This gift, which funds a leading scholar to teach in the unique first-year seminar-style program, will help imbue students with the same intellectual passion and vigour demonstrated so frequently by Raymond Pryke during his eventful life. Following his passing, a gift from his estate fully endowed the Raymond Pryke Chair.