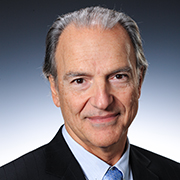 Pierre Lassonde
Hon DEng 2001
Pierre Lassonde has left an indelible mark on the global mining industry as a result of his business leadership, and on higher education and research as a result of his visionary philanthropy.
Pierre Lassonde launched Franco-Nevada Mining in 1982 in partnership with Seymour Schulich. The two created the mining royalty business with the initial purchase of a royalty interest on a small gold mine in Nevada that became a world-class producer. This early success set the pace for Lassonde's extraordinary career in a variety of roles that have included professional engineer, astute investor, innovative financier, builder of entrepreneurial companies, and senior statesman in Canada's mining and investment industries.
Lassonde's philanthropic initiatives have been just as extraordinary, with transformative donations to educational institutions in both Canada and the United States, including York University, Ryerson University, Western University, École Polytechnique de Montréal and the University of Utah. He has also been a leading supporter of the Musée national des beaux-arts du Québec. His generous contributions to the University of Toronto, which now total more than $9.5 million, began in 1996 with his landmark pledge of funding to revitalize the Mineral Engineering program. Later donations supported renovations to the historic beaux-arts-style Lassonde Mining Building, the home of the Lassonde Institute of Mining.
In addition to his financial support for world-class facilities, Lassonde has also contributed funding for scholarships and chairs, helping ensure that future generations of U of T engineering students will be taught by leaders in the discipline.
Lassonde's remarkable contributions have enabled the University to continue serving as an incubator for ideas and technologies that will drive research and sustainable innovation in mining and the mineral and earth sciences, for years to come.