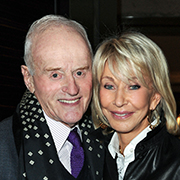 Peter Munk and Melanie Munk
Peter (BASc 1952, Hon LLD 1995, Hon DSL 2004 TRIN)
Melanie (Hon DSL 2004 TRIN)
Legendary philanthropists Peter and Melanie Munk helped put Canada on the world stage and have left an indelible mark on the University of Toronto.
Peter Munk (1927-2018) and Melanie Munk rank among Canada's greatest philanthropists. Peter Munk was born in Hungary and narrowly escaped the Holocaust before arriving in Canada in 1948 to study electrical engineering at U of T. Peter founded his first company, Clairtone Sound Corp., in 1958, to manufacture high-quality stereo equipment. After pivoting from the electronics business to hotels and resorts, Peter founded Barrick Gold in 1983, building it to become the world's largest gold company.
Together with his wife, Melanie, Peter Munk established a legacy of philanthropy in Canada and in Israel. Initiatives and institutions made possible through the Munks' support include the Munk School of Global Affairs and Public Policy at the University of Toronto; the Peter Munk Cardiac Centre at Toronto General Hospital; the Centre for Research, Innovation and Technology at the Technion-Israel Institute of Technology; and the Munk Debates.
Peter Munk often said that it was the University of Toronto that made him a Canadian and his fondness for the University placed U of T at the centre of the Munks' philanthropy. The Munks' generosity to U of T has exceeded $51 million, including a landmark donation in 2010 of $35 million to create the Munk School of Global Affairs and Public Policy. At the time, it was the largest single gift from an individual in the University's history, allowing for the creation of an internationally acclaimed academic powerhouse that continues to advance our understanding of international social, political and economic issues.
In addition to financial support, Peter Munk also generously contributed his vision and leadership in a number of senior volunteer positions at U of T over the years, including his role as an honorary chair of the Boundless campaign.
Through their visionary contributions, Peter and Melanie Munk have had an extraordinarily powerful influence on higher education and health care, as well as on public policy research and discussion. Their impact will endure for generations.