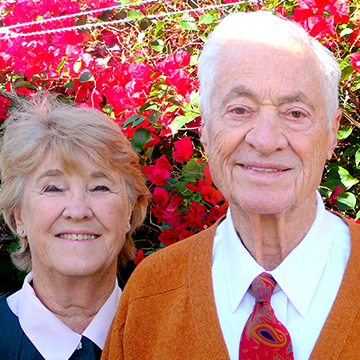 Nicolas Kordellas and Shirley V. Tripp
Nicolas (BASc 1959)
Nicolas Kordellas and Shirley Tripp have endowed a generous scholarship fund for engineering and nursing students.
As a teenager, Nicolas Kordellas (1935-2021) was good at everything—literature, music and technical subjects. When it came time to go to university, he decided to follow in the footsteps of his great-grandfather, Andreas Kordellas, who had found success as a mineralogist and mining engineer in Greece's silver mines.
After immigrating to Canada, Nicolas Kordellas enrolled in the University of Toronto's Faculty of Applied Science & Engineering, where he got a degree in mechanical engineering. From there came engineering jobs across the country—from Welland, Ontario to Fort McMurray, Alberta and many points in between.
Kordellas married Shirley Tripp, a nurse who graduated from Archer Memorial Hospital in Lamont, Alberta in 1968. She had followed in the footsteps of her mother, Velma E. Martin Tripp, who had started as a teacher and then became a nurse, graduating from U of T around 1945. Velma's career and work with young children inspired Tripp to become an obstetric nurse. During her time as a nurse, Tripp helped deliver thousands of babies.
Once retired, the couple decided to endow a scholarship fund to benefit students at U of T's Faculty of Applied Science & Engineering and the Lawrence S. Bloomberg Faculty of Nursing.
Their initial gift in 2014 set up two scholarships, the Kordellas-Tripp Foundation Nursing Award and the Kordellas-Tripp Foundation Engineering Award for third- and fourth-year students in financial need. They have since augmented their original gift with an additional planned bequest.
A strong connection between Kordellas, Tripp and the students they help is a vital part of the couple's legacy. When Kordellas was a student at U of T Engineering, he worked part-time as a taxi driver to support himself. He also received various bursaries, but never knew the individuals who donated the money. Kordellas and Tripp did not want this to be the case with the students who receive support from their gift.
The couple also chose to establish scholarships awarded on the basis of need and values, not high marks, understanding that students who may not be at the very top of their class also need assistance, but have fewer opportunities to receive it. They have expressed a wish that the students they help will be able to embark on careers they love—enjoying their working lives as Kordellas and Tripp so thoroughly enjoyed their own.