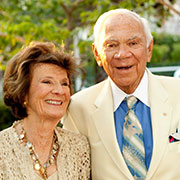 Murray Koffler, Marvelle Koffler and Family
Murray (BPhm 1946, Hon LLD 1985)
Marvelle (Hon LLD 1996)
Murray and Marvelle Koffler have had a profound impact at the University of Toronto, which includes their donation of ecologically significant land on the Oak Ridges Moraine for the creation of an internationally recognized living laboratory, The Koffler Scientific Reserve.
Murray B. Koffler (1924-2017) pioneered the modern retail drugstore concept in Canada with Shoppers Drug Mart. Having inherited two family pharmacies at the age of 20, he went on to build an iconic pharmacy chain over several decades, with innovations that changed the face of retail pharmacy in North America. In 1978, he sold Shoppers Drug Mart to Imasco Ltd., although he continued as its chair until 1986. Murray's vision and leadership remained central to Shoppers Drug Mart's development, as the company became the largest drugstore retail chain in Canada, with well over one thousand stores.
Koffler's career and contributions to the fabric of Canada's business and philanthropic community were diverse. He is renowned as one of three founders of the Four Seasons Hotels Ltd., founder and first president of the Canadian Society for the Weizmann Institute of Science, founder of Canadian Council for Aboriginal Business and the Council on Drug Abuse. He served on numerous boards and advisory councils, including the Canadian Council of Christians and Jews, Operation Lifeline, Mount Sinai Hospital, the United Jewish Welfare Fund and the United Jewish Appeal.
Murray Koffler and his wife, Marvelle Koffler (1929-2020), started many initiatives that have taken on a life of their own. Their spirit of generosity and high regard for the betterment of humanity led to the establishment of the Koffler Centre of the Arts and The Toronto Outdoor Art Exhibition, as well as the Marvelle Koffler Breast Centre and the Murray Koffler Urologic Wellness Centre at Mount Sinai Hospital. In 1977, Murray was made a Member of the Order of Canada for his many services to his community as businessman, philanthropist and patron of the arts and was promoted to Officer in 1995. For her service to the community, Marvelle was made a Member of the Order of Ontario in 1998.
The Kofflers also demonstrated an extraordinary commitment to the University of Toronto, contributing to a broad range of initiatives that supported education, research and student financial assistance through scholarships, trusts and endowments. Most notably, the Kofflers helped create the Koffler Student Services Centre on College Street, Koffler House (Multi-Faith Centre), and the Murray B. Koffler Administrative Centre at the Leslie Dan Faculty of Pharmacy.
In 1995, Murray and Marvelle made the largest donation of land in the history of Canadian universities, namely, their 350-hectare equestrian estate, Jokers Hill. Now home to the Koffler Scientific Reserve, Jokers Hill is internationally recognized for cutting-edge education and research in biodiversity, ecology and conservation biology.