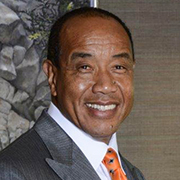 Michael Lee-Chin & Family
Michael (Hon LLD 2007)
Michael Lee-Chin's benevolence reflects his belief that he would not have achieved his success in business and finance without an education—and the scholarship that made it possible.
Born in Jamaica in 1951, Michael Lee-Chin came to Canada to study civil engineering at McMaster University on a scholarship. After graduation, he became a financial adviser and later borrowed money to purchase Mackenzie Financial stock. Four years later, the stock appreciated and Michael used the profits to acquire an Ontario-based investment firm called AIC Limited. Within 20 years, AIC grew from less than $1 million in assets to more than $15 billion under management. He later sold AIC to Manulife Financial and today he is the President and Chairman of Portland Holdings. Michael's business accomplishments span various countries, operating in sectors that include financial services, consumer goods, waste management, tourism, insurance, agriculture and media.
For Lee-Chin, his professional success and his giving are implicitly linked through his philosophy of "doing well and doing good." Over the years, contributions from Lee-Chin and his family and businesses have benefited important causes across culture, education, and health services, including his landmark gifts to the Royal Ontario Museum.
Education is a focus for Lee-Chin, who sees it as an equalizer in society, affording everyone the opportunity to succeed. In 2004, he pledged $10 million to U of T's Rotman School of Management to establish the Michael Lee-Chin and Family Institute for Corporate Citizenship. The institute's mission is to help current and future business leaders integrate sustainability into business strategy by developing and disseminating research, tools and curricula for business students.
Lee-Chin's generosity demonstrates his commitment to building sustainability into business success. It is through his patronage that he is investing in and positively impacting the Rotman community.