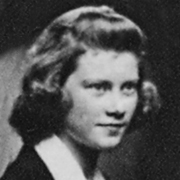 Mary Mounfield
BA 1944 VIC
Mary Mounfield helped enable the launch of Vic One, an extraordinary, multidisciplinary program at Victoria University that has influenced undergraduate education across U of T.
After studying science at U of T, Mary Eylene Mounfield (1922-2001) embarked on a varied career that included roles as a research assistant at the Banting and Best Institute (later the Banting and Best Department of Medical Research) and then as a physical education teacher in Brockville, Ontario. She later moved on to a position at the Confederation Life Insurance Company where she worked until she retired.
Mounfield played bridge, was active in church and theatre groups, and volunteered for the Red Cross, Out of the Cold, and the Sunnybrook and Women's College Hospitals. She regularly attended alumni events at Victoria College, and gave generously to renovation funds, the book sale and the annual campaign.
Despite her unassuming lifestyle, when she passed away in 2001, Mounfield left Victoria University an unexpected and generous bequest of $3.9 million in stocks and her family farm in Weyburn, Saskatchewan, which included an active oil well, producing $200,000 in revenues per year.
The bulk of the gift was dedicated to the Vic One program, an innovative academic experience for first-year students that launched in 2003. Among its features, Vic One includes experiential learning, small seminar classes and access to leading thinkers from various disciplines. Mounfield's benefaction also funded a scholarship and a bursary for students in the Vic One program.
With her estate gift, Mounfield not only helped transform the undergraduate experience at Victoria University—the program proved so successful that it was adopted across U of T. Called First Year Foundations: The One Programs, they give students across colleges and all three campuses an exceptional start to their academic journey. Fittingly, a student lounge named in her honour in the E.J. Pratt Library commemorates Mary Mounfield's tremendous impact on the student experience.