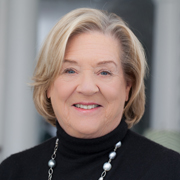 Margaret McCain and Wallace McCain
Margaret (BScW 1955, Hon LLD 1996)
Wallace (Hon LLD 2007)
Passionate about child welfare, Margaret and Wallace McCain have generously supported areas at U of T that contribute to scholarship and action on this critical issue.
The first female Lieutenant Governor of New Brunswick, Margaret McCain is widely known for her advocacy for healthy child development and child welfare. In 1999, she co-authored a landmark report with Dr. Fraser Mustard, commissioned by the Government of Ontario, titled Early Years Study: Reversing the Real Brain Drain, which highlighted the critical importance of the early years of life for healthy development. She continues to play a major role as an advocate for children and families.
Her late husband, Wallace McCain (1930-2011), co-founded McCain Foods Limited in 1956, scaling up the then-innovative idea of selling processed foods and growing the potato company into a frozen French fry empire. He went on to diversify into equipment manufacturing and transportation ventures to support the McCain enterprise. He bought Maple Leaf Foods, a manufacturer of packed meats and baked goods, in 1995 and served as chair of its board for many years.
Margaret and Wallace championed causes ranging from eliminating family violence to supporting pancreatic cancer research to promoting youth mental health. They have been leading supporters of many Canadian institutions, including the National Ballet School, the University of New Brunswick, and the Centre for Addiction and Mental Health. Margaret remains one of Canada's most respected and active philanthropists. She inherited her belief in giving back from her mother and often becomes deeply involved in the areas she supports financially.
The couple's desire to support families and advance education led to numerous donations to the University of Toronto. They established the Margaret and Wallace McCain Family Chair in Child and Family at the Factor-Inwentash Faculty of Social Work. Their gift to the Dr. Eric Jackman Institute of Child Study renewal project established the Margaret and Wallace McCain Pavilion. The McCains have also supported the Fraser Mustard Institute for Human Development. In total, they have given nearly $6 million to the University with additional support for scholarships, prizes, awards, program funds and faculty positions across the institution.
Margaret McCain has also volunteered extensively at U of T, serving as an honorary chair of the Boundless campaign, honorary chair of the Factor-Inwentash Faculty of Social Work campaign, and on the Boundless campaign executive closing committee, as well as many, many other advisory boards and committees.
The University has bestowed honorary degrees on Margaret and Wallace for their extraordinary volunteer leadership. Their induction into the Order of Canada is further recognition of their generosity and commitment to supporting research and education that improves the lives of children and families across Canada.