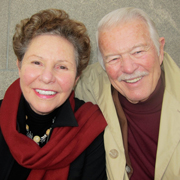 Margaret and Jim Fleck
Margaret (MDiv 1982 TRIN, Hon DD 2000 TRIN)
Jim (Hon LLD 2002, Hon DLitt 2010 TRIN)
Proud U of T community members for decades, Margaret and Jim Fleck have strengthened community and promoted educational excellence through their philanthropy.
Margaret and Jim Fleck's deep roots at the University of Toronto go back to 1949, when James D. Fleck earned his high school diploma from University of Toronto Schools (UTS). After graduating from Western University, then Harvard, he taught business at York University, and in the U.S., Japan and France. In 1970 he moved into public service, taking senior level roles in the Government of Ontario before returning to academia in 1979 as the M. Wallace McCutcheon Professor of Business-Government Relations at U of T. Throughout this time, he had a successful parallel career in business as the CEO and founder of Fleck Manufacturing Inc. and later as chair of several public and private organizations including the Canadian Museum of History, the Canadian War Museum, ATI Technologies and Alias Research. He was named to the Order of Canada in 1997 for both his scholarship and his philanthropy, and elevated to a Companion of the Order in 2014.
The Reverend Doctor Margaret Fleck (1932-2019), grew up in Winnipeg and in London, Ontario, where she earned a degree from Western University. In 1966, her priest asked her to begin leading a youth group, an experience which eventually led her to earning a master's of divinity from Trinity College in the University of Toronto in 1982, and to her ordination as an Anglican minister in 1984. She served in four Toronto parishes in her career as a priest.
Margaret Fleck was also active in community service, hosting picnics at her home for LOFT Community services, while Jim, an avid art collector, has served as president of the Art Gallery of Ontario and founded the Canadian Arts Summit network, the Power Plant Contemporary Art Gallery and the Toronto Music Garden. Their Fleck Family Foundation supports causes from music and the arts to education, business, athletics, spirituality and health. The University of Toronto honoured both Margaret (in 2000) and Jim (in 2002 and 2010) with honorary doctorates.
The Flecks have given generously to the University. At the Rotman School of Management, their $1-million gift in 1995 to the 105 St. George Street building fund helped create the beautiful and skylight-covered Fleck Atrium. Located at the heart of the building, the Fleck Atrium is a much-loved space and a vibrant hub for connection and collaboration.
At Trinity College, the Flecks have supported many initiatives including a $500,000 contribution in 1995 to endow the Humphrys Chaplaincy, which provides pastoral care to Anglican students. In 2005, they donated a further $1.26 million to endow the Margaret E. Fleck Chair in Anglican Studies, helping the college's Faculty of Divinity to attract top scholars who build vital global partnerships.
Jim Fleck chaired the University of Toronto Schools' Building the Future fundraising campaign (2017-2020), to which he committed $2.5 million. This successful initiative supported UTS' unique status as the only merit-based university preparatory school in Canada located on a university campus. The campaign exceeded its goal to raise more than $61 million and will enable UTS to offer its advanced, globally-oriented curriculum in state-of-the-art spaces.
Known for encouraging philanthropy in others with his mantra "give 'til it feels good," Jim Fleck must feel good indeed. His family's generous contributions have created vibrant educational communities at U of T and will impact Canadian scholarship for years to come.