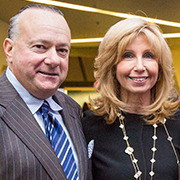 Lynn Factor and Sheldon Inwentash
Lynn (Hon LLD 2012)
Sheldon (BCom 1978 NEW, Hon LLD 2012)
Lynn Factor and Sheldon Inwentash are making a difference in the lives of the most vulnerable people in society through their leadership in social work education.
In their roles as prominent philanthropists and volunteers, Lynn Factor and Sheldon Inwentash have combined their personal success with a strong belief in social justice. Their benefactions have supported a number of important educational, health, cultural and social service institutions including the Art Gallery of Ontario, Boost Child & Youth Advocacy Centre, Princess Margaret Hospital and Thornhill Adult Education Centre.
Lynn Factor is dedicated to improving services and programs for disadvantaged children. After a distinguished career as a social worker at the Durham Children's Aid Society and at the Superior Court of Justice Victim/Witness Assistance Program, she is now a child and youth advocate who prepares children and victims of sex trafficking to testify in criminal court.
Sheldon Inwentash has more than 30 years of experience in the investment industry. In 1992, he founded Pinetree Capital Ltd., a venture capital firm that he turned into a world leader in financing junior resource companies. Inwentash continued as chair and CEO until 2015. Since 1998, he has also been chair and CEO of ThreeD Capital Inc., a venture capital firm specializing in the junior resource, blockchain and artificial intelligence sectors.
At U of T, the couple made history in 2007 with the largest gift ever made to a faculty of social work in North America. The gift of $15 million enabled five endowed chairs and 50 graduate student scholarships at the faculty, which was renamed the Factor-Inwentash Faculty of Social Work in their honour.
Through their extraordinary dedication and generosity, highlighted by their visionary gift for social work education, Lynn Factor and Sheldon Inwentash are helping ensure that our community remains a compassionate place in which all citizens can thrive.