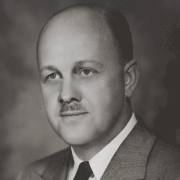 Lorne Pratt and Lucile Pratt
Lorne (BASc 1922)
Lorne and Lucile Pratt helped provide new infrastructure for the Faculty of Applied Science & Engineering at a time of tremendous need.
Lorne Pratt (1899-1969) was an accomplished civil engineer who helped lead the Canadian Dredge & Dock Company, which had been founded by his father in the early 20th century. After succeeding as president, Pratt led the company's expansion into developing harbour and bridge projects throughout North America, South America and Trinidad. He later went on to play an important role in planning Toronto's infrastructure during a time of vast municipal expansion. At the University of Toronto, he was an engaged alumnus and lifelong member of the Hart House billiards committee.
Pratt passed away in 1969 and named the engineering faculty a beneficiary of his estate upon the death of his wife, Lucile Pratt (1907-2005). Lucile, however, wanted to see the University benefit from the support during her lifetime. After learning of the University's need for more space for engineering, she made a $6.2-million gift to help fund construction of the D.L. Pratt Building—the largest-ever private monetary donation to the University up to that point. Her generous gift came on the eve of the University's Breakthrough campaign, which launched in 1987, and helped to fuel its early momentum and success.
Lucile attended the opening of the Pratt Building in 1991—which featured a remote-controlled robotic arm performing the ribbon cutting. Since its opening, it has been the home of electrical and computer engineering, artificial intelligence and machine learning labs, as well as the Pratt Microfabrication Facility.
The University of Toronto is grateful for Lorne and Lucile Pratt's generosity to the Faculty of Applied Science & Engineering. Their gift came at a fortuitous moment when U of T Engineering was experiencing acute need and when a pivotal fundraising campaign was just getting underway, requiring an early champion to inspire others.
Images courtesy of the Royal Ontario Museum