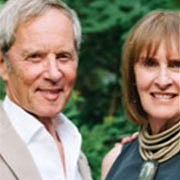 Lawrence S. and Frances Bloomberg
Lawrence (Hon LLD 2009)
Lawrence and Frances Bloomberg' generosity helped transform Bloomberg Nursing into one of the top faculties of nursing in the world.
Born in Montreal, Lawrence S. Bloomberg is a prominent entrepreneur in the finance field. In 1979, he founded securities dealer First Marathon Inc., which grew into one of Canada's leading investment dealers. Twenty years later, National Bank of Canada bought First Marathon to create National Bank Financial. In 2013, Bloomberg was inducted as an inaugural member of the Investment Industry Association of Canada's Hall of Fame. He is a past director of the National Bank of Canada. Currently, Bloomberg is chair of BloombergSen Inc., an investment-counselling firm he co-founded.
While his impact on the world of finance has been tremendous, it is equalled only by his impact on the health and well-being of Canadians through his philanthropy. Most notably, Bloomberg has been called "Nursing's Champion" for his visionary investment in nursing research and education at the University of Toronto. In 2007, Bloomberg brought a $10-million donation to U of T's Faculty of Nursing, advancing the science and scholarship that underpin nursing education locally, nationally and globally. At the time, this was the largest private investment in a Canadian nursing faculty. In recognition of the generous gift, the faculty became the Lawrence S. Bloomberg Faculty of Nursing.
The landmark donation has allowed Bloomberg Nursing to enhance the excellence of its educational offerings, expand its programs, increase the use of simulation and technology in the classroom and deepen support of nursing research. The transformative gift also established the Schulich Awards in Nursing and the Tom Kierans International Postdoctoral Fellowship program.
Beyond U of T, Bloomberg has served as Chancellor of Ryerson University and supports numerous universities and charitable causes as a volunteer and benefactor, including establishing the Frances Bloomberg Centre for Women's and Infants' Health at Mount Sinai Hospital where he was Chairman from 2002 to 2012.  Bloomberg was also a founder and director of the MaRS Discovery District.
Recognition for Bloomberg's many contributions across health care and education include the Order of Canada and the Order of Ontario. The greatest testament to his generosity and vision, however, is the outstanding care that Bloomberg Nursing graduates provide to communities across Canada and internationally.