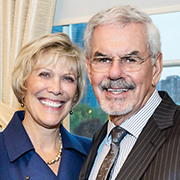 Kathleen and William Troost
William (BASc 1967)
Setting an example of leadership, professional excellence and generosity, Kathleen and William Troost's contributions to the Faculty of Applied Science & Engineering have provided the leaders of tomorrow with the support they need.
Bill Troost's family immigrated to Ontario from the Netherlands in 1960, and he remembers his family struggling to make ends meet on the modest income his father earned as a farm labourer. Despite the tough circumstances, Troost was able to attend U of T thanks to a high school teacher who nominated him for a J. Edgar McAllister Foundation Admission Award.
This unexpected opportunity, which had a significant impact on his career and life, inspired a lifetime of generous philanthropy by Troost, who went on to become a successful entrepreneur. He founded Peel Plastic Products Limited in 1978, steadily growing what was a two-person operation into a highly successful packaging company.
Bill and his wife, Kathleen, have given generously to charitable causes throughout Ontario, including the United Way of Peel, Western University's Ivey Business School and the Brampton hospitals. They have also been particularly generous to the University of Toronto, making it possible for talented but financially struggling students to pursue their studies.
Between 2009 and 2014, the Troosts established the Troost Family Leaders of Tomorrow Award and the J. Edgar McAllister Foundation-Troost Family Award for Engineering. The naming of this latter award recalls the student award that Bill Troost himself once received.
The couple have also recently boosted their support for the Institute for Leadership Education in Engineering with a $3-million gift, matched by the Faculty of Applied Science & Engineering. Now named the Troost ILead, it is where engineering students develop the tools for success and expand their leadership potential. Bill Troost has volunteered extensively for the institute on its board of advisors.
Thanks to the Troosts' extraordinary dedication, generations of engineering students will have an opportunity to acquire a top-tier education regardless of their financial circumstances.