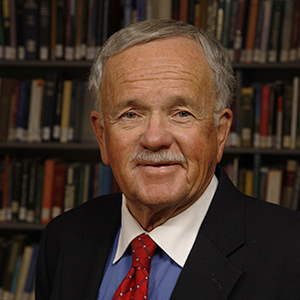 John H. Whiteside
BCom 1963 TRIN, JD 1967, Hon DSacLitt 2019 TRIN
A faithful supporter of Trinity College, John H. Whiteside launched a prestigious scholarship and led efforts to build a cutting-edge facility for sustainability studies.
John Harvey (Jack) Whiteside (1940-2023) was a business lawyer, generous philanthropist, and lifelong friend of his alma mater, the University of Toronto. He grew up in Windsor, Ontario, and attended U of T in the 1960s, enjoying active membership in the Trinity College Literary Society and the French Club while he was earning a bachelor of commerce degree and completing his Juris Doctor at the Faculty of Law. In his successful legal career, Whiteside rose to partner at major Canadian firm Fraser & Beatty, now Dentons, and served as a director of companies such as Geac Computer Corporation Limited, Field Aviation and the Canadian subsidiaries of international corporations, including Mennen and Montedison.
He served for many years as a director of the Canadian Opera Company, and gave generously through the Whiteside Foundation to arts, education and health-care causes in the Toronto area. Equally generous with his time, Whiteside served the Trinity College Alumni Association and the Trinity College Corporation for half a century. U of T honoured him for his outstanding volunteer service in 2001 with an Arbor Award and Trinity College awarded him an honorary doctorate in 2019.
In 2004, Whiteside mentioned Trinity College in his will. In 2010, he accelerated his plans and immediately founded the John Harvey Whiteside Scholarships with a considerable endowment. Awarded to second-year students who combine academic excellence with community participation, the scholarships provide generous annual funding of $15,000 for up to three years. The awards enable a full focus on study and experiential learning with recipients going on to make a difference by helping children with disabilities, teaching opera, publishing research, and more. He also funded annual scholarships at the University of Toronto Faculty of Law.
In 2019, Whiteside made a transformative leadership pledge to the Living Trinity campaign at Trinity College. The campaign's centrepiece, a sustainable new building, adds more than 300 residence beds—in a wing named J.H. Whiteside House in his honour—as well as innovative classrooms and hubs for socializing. The goal: to strengthen community, encourage multidisciplinary collaboration and support an advanced curriculum stream focused on sustainability and the environment.
Jack Whiteside's steadfast and generous support for Trinity College created a lasting legacy of well-educated and engaged community leaders, and a stunning new campus space in which they can flourish.