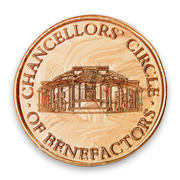 John H. Watson and Josie Watson
John (BCom 1966 VIC, MBA 1967)
John and Josie Watson's generous gifts to U of T have supported scholarships, research and the education of future investors who are critical to the growth of Canada's economy.
John Watson comes from a family well-steeped in Toronto's history. In the 19th century, the Watson family owned a 100-acre farm near the intersection of Dufferin Street and Eglinton Avenue in the city's west end. In the early 20th century, Watson's grandfather (John T.) and father (Gordon McKay) established the Fairbank Lumber and Coal Company, with proceeds from the sale of much of the family farm.
Watson forged his own path after graduating from U of T, taking a job at Confederation Life, a leading insurance company and financial services provider of the time. As a chartered financial analyst, John Watson rose through the ranks to become vice-president of Confederation Life Investment Counselling, then co-founded global equity investment firm Sprucegrove Investment Management. Josie Watson worked for the Fairbank Lumber and Coal Company for 22 years, rising from receptionist to manager of human resources. Josie and John Watson co-founded Fairbank Investment Management in 2009 with John as company president and Josie serving as the firm's accounting and human resources manager.
The couple have given nearly $4.8 million to a range of scholarships and initiatives at Victoria College and the Rotman School of Management. In 2003, their gift endowed the John H. Watson Chair in Value Investing—a field which involves finding companies whose share prices are undervalued. In addition, in 1996 John established the Gordon McKay Watson Entrance Award at the Rotman School of Management, in honour of his father.
Other giving from the couple includes the Richard Jeffrey Maybee Memorial Scholarship, in honour of a family friend, which rewards a student for academic excellence in subjects from the western classical tradition. The Kathleen Watson Memorial Award, honouring John Watson's mother, supports an English student in financial need, and the John Hamilton Watson Award for International Study gives Victoria College students the opportunity to study abroad, learning global citizenship skills.
Through their generous contributions, John and Josie Watson are building a legacy in the Watson name in the field of education which looks toward a bright future through the impact of their visionary philanthropy.