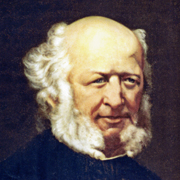 John Elmsley
John Elmsley was a naval officer, an entrepreneur and a philanthropist, and also managed the extensive properties belonging to his father, John Elmsley, Sr., which included much of the land where St. Michael's College at the University of Toronto stands today.
John Elmsley was a celebrated figure in early 19th-century Toronto, known then as York. A naval officer, an entrepreneur and a philanthropist, he was the son of John Elmsley, Sr., the Chief Justice of Upper Canada, who had amassed extensive parcels of land on what is now the St. George campus of U of T.
John Elmsley, Jr. also held a number of leading positions in politics and the law. He became a member of the Executive Council of Upper Canada in 1830, and in the following year, the Legislative Council. He was appointed a director of the Bank of Upper Canada in 1828, and by 1831 was one of the bank's largest shareholders. He also helped launch the British American Assurance Company in 1833, and was a major shareholder in the Welland Canal Company.
Elmsley converted to Catholicism after his marriage, and he focused his community work on the institutions of the Catholic faith. One of his philanthropic contributions helped establish the first Catholic school in Toronto in 1841. His support for St. Michael's College began in 1853, as the College was outgrowing its location on Church Street. Elmsley donated four lots (known as the Clover Hill estate) to the Basilian Fathers as a new site for the College, on the condition that they build a parish church, known now as St. Basil's Church. St. Michael's College relocated to the new site east of the University of Toronto, and the incorporation of the College was granted Royal Assent in 1855.
John Elmsley's contributions to the growth of St. Michael's College are an important part of its history. The land he donated houses the oldest buildings at St. Michael's College, which stand as a lasting memorial to one of the College's first supporters and benefactors.