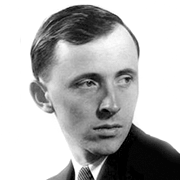 John Davenport and Edna Davenport
John (BASC 1929)
Edna (BHSC 1929)
The generosity of the Davenport family has helped U of T establish itself as a centre of excellence, both academic and athletic.
Before John Davenport (1906-1988) reached the highest levels of the pharmaceutical industry, he was a champion pole vaulter and captain of the Varsity Blues track team, leading them to the Intercollegiate Track Trophy in 1929.
At U of T, he met his future wife Edna Street (1907-1998) and they were married in the Hart House chapel in 1932. Upon graduation, John Davenport accepted a job with Pfizer as a chemical engineer, and eventually became head of the company's executive committee. He later relinquished his corporate duties so that he could direct the company's cancer research laboratories.
The Davenports moved away from Toronto, but they never truly left U of T. Following John's death in 1988, Edna Davenport helped fund extensive renovations to the Lash Miller Chemical Laboratories. That contribution, along with another from her estate, helped transform the John and Edna Davenport Chemical Research Building into a cutting-edge facility by significantly expanding its library, upgrading its equipment and doubling the space dedicated to research.
In 2008, John Davenport's athletic achievements at U of T were celebrated with a contribution to the Varsity Centre campaign from the Davenport Family Foundation. The John L. Davenport Track, part of a sports facility renovation project, has welcomed some of the world's top athletes, including Olympic gold medallist Usain Bolt.
The Davenports' long-standing attachment to U of T has earned them a distinguished place among the University's benefactors. Their generous donations have enabled the University to attract many of the brightest young minds in chemistry, and have also helped U of T to build outstanding facilities that foster both athletic and intellectual excellence.