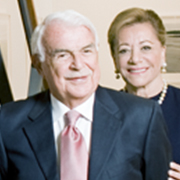 John Daniels and Myrna Daniels
John (BArch 1950, Hon LLD 2011)
The civic vision of John and Myrna Daniels has transformed the Daniels Faculty at U of T into a major international hub for architecture and design, where future generations of talented students will be able to make their own mark in Canada and around the world.
John H. Daniels is recognized across Toronto as the founder of The Daniels Corporation, a real estate development firm behind a number of iconic projects, including the Toronto Film Festival's Bell Lightbox and the revitalization of Regent Park, which is making thousands of affordable rental units available to low-income families.
Together with his wife, Myrna Daniels, John Daniels is also active in philanthropic efforts across the city, contributing generously to support health care, the arts and a range of charitable organizations. At the University of Toronto, they have donated more than $30 million to the John H. Daniels Faculty of Architecture, Landscape, and Design—the largest donation to an architecture program in Canada to date.
Their remarkable generosity, along with a further contribution of $1 million from The Daniels Corporation, has allowed the Daniels Faculty to develop a world-class undergraduate program, quadruple its enrolment, offer scholarships to exceptional students, strengthen its research activities and raise its global profile.
In addition, contributions from the Daniels family have supported the construction of a spectacular new home for the Daniels Faculty, transforming the historic One Spadina building into a major new hub for urban planning and design. The building, which has been celebrated in The New York Times, Canadian Architect and elsewhere, offers an inspiring mission statement for a new generation of architects, designers and developers in Canada.