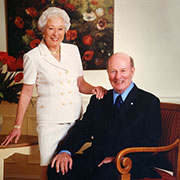 John and Margaret Bahen
John (BASc 1954, Hon DEng 1999)
Margaret (DOT 1952)
John and Margaret Bahen gave generously to research and scholarship in medicine and engineering as well as funding the cutting-edge centre devoted to information technology that bears their name.
John Bahen, a civil engineering graduate, was involved in some of the highest-profile construction projects in Canada. Spending most of his career as President and CEO of Peter Kiewit Sons Co. Ltd., he was responsible for the construction of approximately 40 per cent of Toronto's subway system, two sections of Montreal's subway system and the elevated sections of Vancouver's SkyTrain. He also oversaw extensive road and dam construction throughout Alberta, as well as sections of the new Welland Canal, and 11 projects related to the James Bay hydroelectric power facility.
Margaret Bahen graduated from U of T's Department of Occupational Science & Occupational Therapy and went on to work at the Veterans Centre K-Wing at Sunnybrook Hospital. She remained a lifelong supporter, volunteer and champion of the department and created the Pamela Cowie Gray Generosity of Spirit Award to honour her lifelong friend, whom she met at U of T.
Together, the Bahens have given more than $10 million to the University, including a transformative $6-million gift in 1999 toward the building of the Bahen Centre for Information Technology. They also made a generous $2-million gift in 1998 to create the Michael Bahen Chair in Epilepsy Research in memory of their son.
In 1994, John Bahen and his business partner, Joey Tanenbaum, created the first endowed chairs at the Faculty of Applied Science & Engineering, the Bahen/Tanenbaum Chairs in Civil Engineering. The chairs focus on applications of structural engineering, particularly as they relate to the construction of large-scale structures and transportation engineering.
The commitment of John and Margaret Bahen to engineering and medical research and scholarship, as well as their vital contribution to create the Bahen Centre as a focal point for collaborative information-technology research, will continue to support the brightest minds for generations to come.