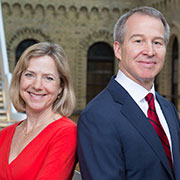 Joannah Lawson and Brian Lawson
Joannah (MIR 1989)
Brian (BA 1982 TRIN)
Twin passions for nutrition and a healthy environment led Joannah and Brian Lawson to found both a cornerstone institute for research in child nutrition at the Faculty of Medicine and a groundbreaking initiative to embed the study of sustainability into the research and learning experience at Trinity College.
As a senior managing partner and chief financial officer of Brookfield Asset Management Inc., Brian D. Lawson (BA 1982 TRIN) has played a central role in charting the company's course. Under his leadership, Brookfield has experienced steady growth and diversified its multi-billion-dollar portfolio of renewable energy, real estate, and infrastructure projects while stressing the values of teamwork and communication. He was named CFO of the Year in 2013.
Joannah Lawson (MIR 1989) transitioned from corporate change management to become a certified nutritionist. Her company, Appetite for Change, focuses on nutritional change at organizational and community levels. She is also active in the area of child nutrition as a volunteer and donor. She serves as chair of the Upper School Nutrition Committee (2012) and Association Council (September 2016) at Upper Canada College; on the Board of Trustees of Trinity College (2016); in the Campaign Cabinet at U of T's Faculty of Medicine (2015); and as chair of the Worship and Music Committee for Rosedale United Church (2017). She is the recipient of the President's Award for Excellence in Innovation from Nortel Networks, a U of T Open Masters Fellowship, the Imperial Oil Higher Education Award and the Eva Henry Prize for Senior Math & Science.
The Lawsons have made children's health and sustainability their principal causes. The couple have donated a total of $10 million to help found the Joannah & Brian Lawson Centre for Child Nutrition within U of T's Faculty of Medicine. The Lawson Centre is a leading voice in research and education in child and maternal health, spearheading essential studies on how the human microbiome affects growth and development and advancing technologies that help families manage diet and chronic disease.
In 2019, the Lawsons contributed $10 million to the Living Trinity Campaign at U of T's Trinity College to launch the Integrated Sustainability Initiative. The gift, the most generous in Trinity's history, will support a sustainable new building, community "farm to table" initiatives to centre the environment in student life, and a comprehensive effort to make sustainability studies central to the curriculum and to faculty research.
The Lawsons' mission is to reduce the burden of diet-related chronic disease and mental illness and promote the role of a sustainable and healthy food system in an environmentally responsible world. The Lawson Centre has provided the fight against chronic disease with a much-needed nexus of knowledge, research and policy development. The Integrated Sustainability Initiative, a living example of how communities can meet the challenges of climate change, is an invaluable springboard to nurture tomorrow's leaders. Through the Lawsons' generous gifts, U of T is helping today's children and youth become healthier adults prepared to steward our planet.