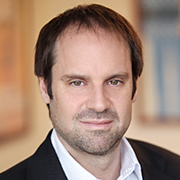 Jeffrey S. Skoll
BASc 1987, Hon LLD 2003
Through his generous giving, Jeffrey Skoll launched a groundbreaking program at U of T that helps students combine technical expertise with management skills.
Throughout his career, Jeffrey Skoll has combined diverse skill sets to achieve success, whether as successful company founder, socially conscious philanthropist and investor, or award-winning media producer.
A gifted graduate in electrical engineering at U of T, Skoll earned an MBA at Stanford University in 1995. This background gave him an invaluable edge as eBay's first full-time employee and president, where he helped the company achieve stratospheric growth.
Skoll's unique experience also led him to establish the Skoll BASc/MBA Program at the University of Toronto in 1999. It was the first degree in Canada to combine engineering and an MBA, thus giving graduates both the technical and management expertise to help them emerge as industry leaders.
Outside the University of Toronto, Skoll invests in projects that raise awareness of important social issues through powerful storytelling and novel entrepreneurial approaches. In 1999, he established the Skoll Foundation, which drives large-scale change by supporting social entrepreneurs and the innovators who help them solve the world's most pressing problems. He also founded Participant Media to inspire social change with offerings such as award-winning films The Help and Lincoln.
In 2012, Skoll was made an Officer of the Order of Canada for his contributions as a social entrepreneur and investor, and in 2017 he won a Carnegie Medal for Outstanding Contributions to Philanthropy. He was one of the first billionaires to join the Giving Pledge, whose members promise to give away half their wealth. At U of T, where his giving totals more than $11 million, his generosity continues to inspire students to follow in his footsteps.