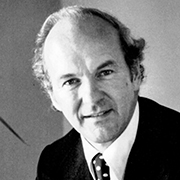 Jack H. and Mary Clark
Jack (BASc 1950)
After a highly successful career in mining machinery and equipment, Jack Clark found himself fighting a lengthy battle against Parkinson's disease, which inspired him to help others.
With his degree in mining engineering from U of T, Jack Clark (1926-2008) was able to launch two highly successful enterprises. The mining machinery company he co-founded, Jarvis Clark Incorporated, opened in North Bay, Ontario in 1965. He followed that venture with John Clark Incorporated, a manufacturer of mining equipment in Denver, Colorado. Noted for his integrity and professionalism throughout his career, Clark was also a devoted family man who loved outdoor adventures, such as back-country skiing and white-water rafting.
He spent the last few years of his life in a battle against Parkinson's disease, and became a tireless advocate of the search for a cure. Together with his wife, Mary, Clark contributed $1 million to U of T to fund research into Parkinson's disease. Jack's estate committed a further $4 million to establish the Jack Clark Chair for Parkinson's Disease Research in the Faculty of Medicine. The chair is currently held by Dr. Anthony Lang, who has published hundreds of peer-reviewed papers and book chapters and is one of the most widely cited investigators in the field of movement disorders.
In 2008, Parkinson's disease claimed Jack Clark's life. However, the Clarks' generosity and support for U of T's renowned Parkinson's disease research program continue to offer hope to more than 67,000 people in Canada and many others around the world who are living with the disease.