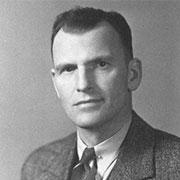 J. William Billes
Forced to cut his own education short, John William Billes was able to generously support the higher education of many others later in his life through a bequest to U of T. Billes, a co-founder of Canadian Tire, left his shares in the iconic Canadian retailer to the University and 22 other beneficiaries.
After his father's death, J. William Billes (1897-1956) began to look for work so that he could help support his large family. Just out of high school, he took a job at Hamilton Tire & Garage in Toronto's east end. In 1922, anticipating a bright future for the automotive industry, Billes and his younger brother, Alfred, pooled their resources and purchased Hamilton Tire & Garage for $1,800. This modest acquisition was the beginning of what would become one of the most successful businesses in Canadian history. The Billes brothers expanded their selection of tires and automotive supplies, and in 1923 they renamed their business Canadian Tire.
Canadian Tire Corporation Limited was incorporated in 1927, and followed soon after by the publication of the first Canadian Tire catalogue—the beginning of the annual Canadian ritual of poring over its pages. In 1934, the first associate store was opened in Hamilton, Ontario. Billes then went on to oversee the growth of a nationwide network of dealer-operated stores. In 1936, the Billes brothers moved their flagship store to Yonge Street and Davenport Road in downtown Toronto. A Canadian Tire store still does a booming business at that same location today.
J. William Billes was inducted posthumously into the Canadian Business Hall of Fame in 1990. He was a visionary with sound instincts who was able to successfully introduce new products and build a nationwide retail business. That same vision informed Billes's legacy. Following his death in 1956, his shares in the company were bequeathed to 23 different charitable organizations. The University of Toronto was fortunate enough to be on that list of beneficiaries. His contribution to educating young Canadians is a fitting legacy for a man who, due to family circumstances, had to forgo his own post-secondary education.