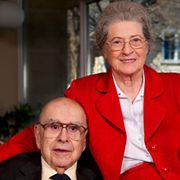 Isabel and Alfred Bader
Isabel (BA 1949, Hon DSL 1995 VIC)
Isabel Bader's philanthropy at the University of Toronto helped students in need and established a lasting artistic legacy at Victoria University.
Dr. Isabel Overton Bader (1926-2022) and her spouse, Dr. Alfred Bader (1924-2018), were two of Canada's most generous and active philanthropists. Their personal story is as inspiring as their legacy of giving.
Born in Northern Ontario in 1926, Isabel graduated from Victoria University in 1949. That same year she met Alfred Bader, a gifted chemist and budding entrepreneur, on a ship travelling from Quebec City to Liverpool. Though the two shared an immediate connection—Alfred proposed shortly after they first met—concern over their religious differences eventually saw the two go their separate ways in 1952.
For the next 30 years, Bader taught drama, English and history in England, and developed a strong interest in theatre and poetry. In the 1970s, she and Alfred reconnected, which led to their marriage in 1982 and the beginning of a philanthropic journey that would touch countless lives in Canada and around the world.
Part of that legacy involved Bader's reconnection with Victoria University, where she and Alfred established a series of scholarships and bursaries for students in need. In 1998, Isabel and Alfred gave $6 million toward the construction of the 500-seat Isabel Bader Theatre, which was not only a major boon for the Victoria University community, but has since become a staple of Toronto's film festivals while also serving as a lecture hall, a learning space for student groups, and a venue for concerts, theatrical productions and conferences.
In 2018, the couple made a $1-million gift through their foundation, Bader Philanthropies, to support the Scholars-in-Residence program at Victoria. The gift put the program on a firm foundation, ensuring that humanities students benefit from opportunities to pursue hands-on scholarly research, learning academic skills and making a real contribution to knowledge in many fields.
In addition to their years of involvement and philanthropy with Victoria University, Isabel and Alfred were also benefactors at Alfred's alma mater, Queen's University, and gave to myriad other causes through the Isabel and Alfred Bader Fund.
The University of Toronto is grateful for their tremendous generosity that has helped give talented students access to post-secondary education, and also for their landmark contribution to Toronto's cultural landscape.