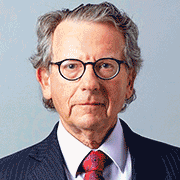 Ira Gluskin and Maxine Granovsky-Gluskin
Ira (BCom 1964 UC, Hon LLD 2022)
Ira Gluskin and Maxine Granovsky-Gluskin have been generous U of T supporters, helping the University to provide financial assistance to students and build an international reputation in economics and Jewish studies.
Ira Gluskin and Maxine Granovsky-Gluskin are Toronto philanthropists who are well known for their generous contributions in support of a variety of causes. Granovsky-Gluskin is a member of the Board of Directors of the National Ballet of Canada, The Bentway, the Sinai Health Foundation, and the Board of Trustees of the Art Gallery of Ontario, and she served as its president from 2013 to 2017. Gluskin, an internationally known securities analyst and a long-time contributor to the Financial Times and the Financial Post, is the former president of brokerage firm Brown Baldwin Nisker and co-founder of wealth management firm Gluskin Sheff + Associates Inc.
The couple's philanthropic interests span education, health care, social services and Jewish causes, and include significant donations to Mount Sinai Hospital, the Jewish Foundation of Greater Toronto, the Toronto Symphony Orchestra and the United Way of Greater Toronto.
At the University of Toronto, their contributions now total more than $7 million and have supported a number of important initiatives, most notably Max Gluskin House, named for Gluskin's father (BCom 1936 UC), which provides a beautiful, modern home for the Department of Economics. They also established the Granovsky-Gluskin Graduate Scholarship Fund to support advanced scholarship in Jewish studies, the May Gluskin Chair in Canadian History and the Anne Tanenbaum Centre for Jewish Studies.
Ira Gluskin's profound commitment to U of T is just as evident in his generous gifts of time, energy and expertise. He has served on the Faculty of Arts & Science Advisory Board, the Principal's Advisory Committee at University College, the Department of Economics Advisory Committee, the Dean's Advisory Group at the Faculty of Medicine and the Boundless Campaign Executive, and the Boundless Campaign Stewardship Task Force. He is the former Chair of the University of Toronto Asset Management Corporation.
The remarkable contributions of Ira Gluskin and Maxine Granovsky-Gluskin are supporting scholarship at U of T and easing the financial burdens of talented students, while also building an enduring legacy for the benefit of the entire University community.