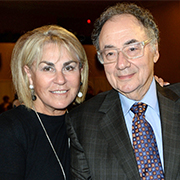 Honey and Barry Sherman / Apotex Foundation
Honey (BA 1969 NEW, BEd 1970)
Barry (BASc 1964)
As generous and visionary supporters of the University of Toronto, Honey and Barry Sherman donated millions of dollars to support education and research at the faculties of medicine and pharmacy, helping build state-of-the-art facilities and prepare future generations of innovators in those disciplines.
Barry Sherman graduated from U of T's Engineering Science program in 1964. A few years later, Honey Sherman earned her bachelor of arts from New College and her bachelor of education from OISE.
In 1974, Barry Sherman founded Apotex Inc., which became Canada's largest manufacturer of generic drugs. Today, the company employs more than 10,000 people and produces more than 300 generic pharmaceuticals for export to some 115 countries. Its charitable arm, the Apotex Foundation, has donated more than $50 million in life-saving medicines to communities around the world.
While Barry Sherman was building the company as its chair and CEO, Honey Sherman became a leader in the community, serving in volunteer positions at the Baycrest Foundation, Mount Sinai Hospital, the UJA Federation of Greater Toronto, York University and the United Way of Greater Toronto.
Through Apotex Inc. and its foundation, the couple donated more than $12 million to U of T and were very generous in support of the Leslie Dan Faculty of Pharmacy. In particular, they helped establish the Apotex Resource Centre and the Apotex Lecture Hall within the Leslie Dan Pharmacy Building and supported the creation of its five-storey atrium.
The Shermans also graciously shared their time and expertise with U of T. Barry Sherman served on the Entrepreneurship Leadership Council, which provides institutional-level advice to the University on entrepreneurship and innovation. Honey Sherman served on the Boundless Campaign Executive and in many other volunteer roles. U of T recognized her with an Arbor Award in 2003 for her volunteerism.
Their remarkable achievements as U of T graduates will endure as a point of pride for the University, while their generous donations and gifts of their time and expertise will continue to support excellence and inspire the U of T community for generations to come.