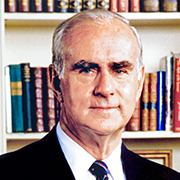 Henry N.R. "Hal" Jackman
BA 1953 VIC, LLB 1956, Hon LLD 1993, Hon DHumL 2011
The Chancellor Emeritus has given generously of his time and his philanthropy to his alma mater, sparking a renaissance in the humanities and at the Faculty of Law.
U of T's Chancellor Emeritus Henry Newton Rowell "Hal" Jackman is one of the University's greatest champions and benefactors, supporting studies in law and the humanities with the same enthusiasm and generosity that he brought to his life in business and public service.
Born in 1932, Jackman attended University of Toronto Schools and Upper Canada College before earning two degrees at U of T—a bachelor of arts from Victoria College and a bachelor of law degree from the Faculty of Law.
After a brief stint working for a federal cabinet minister, Jackman joined his family's firm, the Empire Life group of companies. He eventually rose to the top of the company, overseeing its growth into one of Canada's largest insurance and investment companies. He was chairman of the board of the National Trust Company and the Empire Life Insurance Company, plus several other prominent Canadian corporations.
In addition to his corporate success, Jackman also has had an active public life, serving as Ontario's 25th Lieutenant Governor and as Chancellor of the University of Toronto. He was made an Officer of the Order of Canada for contributions to public life and to cultural enrichment, which include founding the Lieutenant Governor's Awards for the Arts and serving on the boards of the Royal Ontario Museum, the Art Gallery of Ontario, the Shaw Festival, the Ontario Heritage Foundation and the Canadian Opera Company.
At the University of Toronto, Jackman has been a dedicated supporter of the Faculty of Arts & Science and the Faculty of Law, as well as Victoria College, Trinity College and University of Toronto Schools. During the 2000s, he made two transformational $15-million gifts to the Jackman Humanities Institute—the largest donations ever to the humanities at a Canadian university. Matched twice over by U of T, Jackman's funding has enabled the University to build on traditional research areas, greatly expanding cross-disciplinary efforts between campuses, departments and disciplines.
In 2012, Jackman donated $11 million to support the Faculty of Law's plans for a new building. The award-winning Jackman Law Building, which opened in 2016, is already making U of T Law a more attractive destination for the most promising students and accomplished faculty members from around the world. In total, his giving to U of T has exceeded $56 million.
Jackman's profound commitment to the University is equally apparent in his service as a dedicated volunteer. In addition to his chancellorship, these roles include serving as an advisor to the Faculty of Law Building Campaign Cabinet and as an honorary chair of the Boundless campaign.