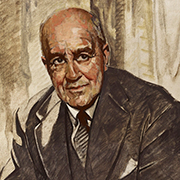 Gerald Larkin
Gerald Larkin's remarkable dedication helped transform Trinity College into a distinctive institution that offers an exceptional academic experience and fosters community, responsibility and leadership.
As a child, Gerald Larkin (1885-1961) watched his father, Peter Charles Larkin, build the Salada Tea Company into one of the leading companies in North America in the tea business. Peter Larkin's notable success led to a friendship with Prime Minister William Lyon Mackenzie King, who appointed him Canada's High Commissioner in London in 1922. In his father's absence, Gerald Larkin took the reins at Salada, ably building on his father's success at the helm of the company until he retired in 1957.
Gerald Larkin was also a lifelong friend of Canon Cecil Stuart, an accomplished Trinity alumnus who became rector of St. Thomas's Anglican Church, adjacent to U of T's St. George campus. Larkin's connection with Trinity College was cemented in 1920, when he became a member of the College's corporation, a community of Trinity supporters that included Anglican Church officials and elected Trinity alumni and friends.
An extraordinary philanthropist, Larkin's generosity was equalled only by his humility. He provided financial support for St. Thomas's Church and many other Anglican institutions, and would willingly help individuals in need, always remaining discreet about this charitable work.
At Trinity College, Larkin's support was transformative, both during his lifetime and after his death in 1961. Beginning in the 1930s, his donations helped drive the College's building program by contributing to the construction of St. Hilda's College. Trinity College Chapel, the last work by the celebrated British architect Sir Giles Gilbert Scott, was also largely financed by Larkin. In addition to these larger contributions, he also donated fine art and furniture collected during his trips around the world, and he quietly covered the College's annual deficit for decades.
When he died, Larkin left $6 million to Trinity, still the largest bequest in the College's history. This singular act of generosity quadrupled Trinity's endowment at that time, and has been the foundation of the stable financial position Trinity still enjoys to this day.
In Gerald Larkin, Trinity found a champion whose enlightened philanthropy has allowed the College to thrive, in his own time and in ours.