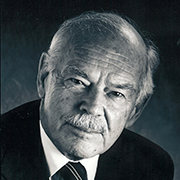 Gerald and Geraldine Heffernan
Gerald (BASc 1943, Hon DSc 1993)
Geraldine (DPT 1943, BA 1973 WDW)
The generosity of Gerald and Geraldine Heffernan is helping outstanding Canadian business graduates, engineers and applied scientists to transform discoveries into commercial products with economic and societal impact.
Born in 1919 in Edmonton, Gerald Heffernan is president of G. R. Heffernan & Associates Ltd., a private investment company. Over a four-decade span during which he led five different steel companies in three countries, Heffernan exerted a tremendous influence on the global steel industry through innovations such as efficient self-contained steel production facilities known as "mini-mills."
Keen philanthropists, Mr. Heffernan and his late wife Geraldine (1923-2018) have given generously to beneficiaries in engineering entrepreneurship, health care and opera. Recipients have included the Canadian Opera Company, Sunnybrook Health Sciences Centre, and the Canadian Institute for Advanced Research.
At the University of Toronto, the Heffernans have contributed $9.6 million to the Faculty of Applied Science & Engineering. Their contributions included support for the Heffernan Commercialization Fellowships to help graduate students transfer their research from the lab into viable business applications, and space for The Entrepreneurship Hatchery at its new home, now named the Heffernan Hatchery in their honour, within the Myhal Centre for Engineering Innovation & Entrepreneurship.
The Heffernans were so supportive of entrepreneurship at U of T Engineering that on their 70th wedding anniversary, they encouraged others to pledge contributions to the Hatchery in lieu of gifts. The request generated significant additional support, demonstrating the widespread respect for the Heffernan's ideals and their confidence in entrepreneurship at U of T Engineering.