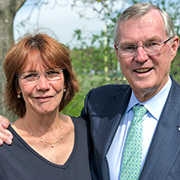 Fran and Edmund Clark
Fran (BA 1969 UC, MA 1990, PhD 2002) Edmund (BA 1969 UC, Hon LLD 2012)
Hailing from families with a multi-generational involvement in University College, Fran and Edmund Clark have played a key role in revitalizing the college's iconic building and supporting its students and programs.
Edmund and Fran Clark met when they were students at University College during the late 1960s. Both came from families with strong connections to the University of Toronto. Edmund's father, Samuel Delbert Clark (PhD 1938, Hon LLD 1988), founded the sociology department at U of T, while Fran's mother, Jean Fletcher (BA 1933 UC, MA 1934, PhD 1938), was a physiologist who worked alongside Charles Best, co-discoverer of insulin. Her father John (BA 1933 UC, MD 1937) was a U of T graduate as well.
In 2014, Edmund Clark retired as the CEO of TD Bank Group, following a distinguished career in the public and private sectors. He has served in a number of leadership roles in the community. These include founding chair of the Vector Institute for Artificial Intelligence and member of U of T's Boundless Campaign Executive.
Fran and Edmund Clark are well known for their philanthropic initiatives in Toronto and further afield, as well as for their advocacy for the homeless and LGBT+ rights. Together, they have provided generous support for the health sciences, social services, the arts and education.
At U of T, their contributions have supported the establishment of the Fletcher-Clark OSOTF Scholarships in Science and Economics and the SD Clark Chair in Sociology, as well as fellowships and student programs. The Clarks were also lead donors in the campaign for the revitalization of University College, supporting the transformation of the West Hall and the UC quad, which have been renamed the Clark Reading Room and the Clark Quadrangle in their honour.
The commitment and generosity of the Clarks have made a lasting difference across U of T, providing financial assistance for students, supporting research and helping preserve and refurbish the historic setting of student life and learning at University College.