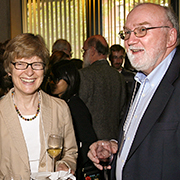 F. Michael and D. Virginia Walsh
Michael (Hon LLD 2023)
Michael and Virginia Walsh's donation of a comprehensive collection of rare and first editions of some of the greatest works of western philosophy is an invaluable resource for philosophers, historians and students at the University of Toronto.
Michael Walsh spent more than 20 years as an investment banker and executive at financial advisory and security brokerage firms, but his early interest in philosophy never waned. Prior to his successful career, Walsh studied philosophy at the University of Guelph, earning a bachelor of arts and a master's degree in philosophy. In the midst of his demanding career in the financial industry, he found time to return to Guelph to complete a PhD in philosophy in 1992.
Walsh's academic pursuits also bred a keen interest in rare editions of the great works of western philosophy, leading he and his wife Virginia Walsh, who had also studied philosophy, to amass an extraordinary collection over the course of four decades. In that time, their collection grew to include several thousand precious antiquarian volumes.
As philanthropists, the couple have been dedicated supporters of philosophy students and philosophical research. In 1999, they made their greatest gift with the donation of the Walsh Philosophy Collection to the Thomas Fisher Rare Book Library. A survey of six centuries of western philosophical thought, the collection includes extremely rare books printed before 1500, and runs all the way to important works of the 20th century. Among them is an edition of Thomas Aquinas's Summa Theologica published in Padua in 1473 and a rare first edition of David Hume's Treatise of Human Nature from 1739.
In 2012, they endowed a fund for the Walsh Philosophy Collection to ensure that the Fisher Library can grow the collection with exciting new additions as they become available.
By donating their personal collection of rare, historic editions of philosophical texts, and securing its future growth, Michael and Virginia Walsh are enriching the Fisher Library's holdings and helping the University attract the world's best philosophy students and researchers.