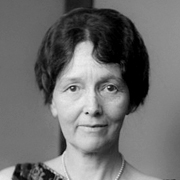 Ella Ferguson
Through a generous bequest, Ella Jane Ferguson established scholarships for University College students in recognition of her late husband.
When Ella Jane Ferguson (1870-1957) passed away, she left her $2.2-million estate to University College (UC). She specified that the money was to provide an annual income for her nieces until their deaths and that the college would inherit the funds thereafter. When the last of the three nieces died in 1986, the bequest took effect, doubling the college's scholarship fund. The bequest also included gifts of artwork, a dining table and chairs.
In keeping with Ferguson's wishes, UC named the admission scholarships in honour of her late husband, the Honourable Howard Ferguson (1870-1946), who graduated from UC in 1892, and served as the Premier of Ontario from 1923 to 1930. One set of scholarships recognized outstanding students applying from outside Ontario, while the other was for outstanding Ontario students applying from outside Greater Toronto. The value of the award is $3,000, renewable up to three times, for a total possible value of $12,000 over four years.
Since 1987, the Howard Ferguson Scholarships have helped more than 650 students complete their education at the college, disbursing nearly $4.5 million. The scholarships have launched hundreds of successful alumni, including Olympian (in swimming) Julie Howard, award-winning filmmaker Howie Shia, and cutting-edge molecular bioscientist Lulu Ang Cambronne.
In addition to the achievements of the many students who have benefited from these scholarships, the Howard Ferguson Dining Hall at UC's Sir Daniel Wilson Residence also stands as an enduring tribute to the Fergusons' generosity.