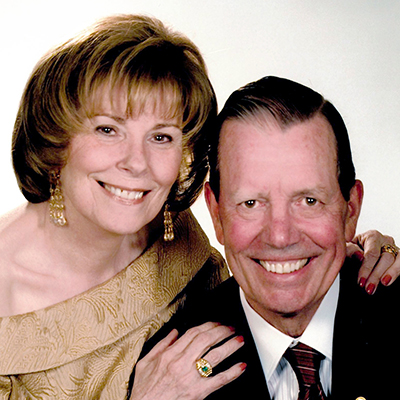 The Elizabeth and Tony Comper Foundation
Through their foundation, Elizabeth and Tony Comper have supported student scholarships, a leading professorship in mediaeval studies, and an important platform to help scholars fight anti-semitism.
Tony Comper (BA 1966 SMC, Hon LLD 1999) believes learning has the greatest impact when it integrates all aspects of a person. He himself has combined a life of extensive philanthropy in partnership with his late wife Elizabeth Comper (1945-2014) and a remarkable four-decade career in financial services, culminating in his role as President and Chief Executive Officer of BMO Financial Group. He has also served in many volunteer leadership roles at the University of Toronto, chairing Governing Council and the historic Great Minds fundraising campaign (1997-2004). The Great Minds campaign marked the first time a Canadian university raised over $1 billion for scholarship, learning and discovery.
Through the Elizabeth and Tony Comper Foundation, the couple have supported education, human rights and especially arts charities. One of their most extraordinary achievements was founding Fighting Anti-Semitism Together (FAST), an initiative to encourage Canadian leaders who are not Jewish to speak up against racism and bigotry. FAST's Choose Your Voice curriculum is used in thousands of schools across Canada.
The foundation has given generously to the University. Among its principal benefactions are gifts for student awards, including $250,000 in 2005 to endow the Tony and Elizabeth Comper Scholarship Fund. In 2013, the foundation contributed $500,000 to endow the Tony and Elizabeth Comper Holocaust Education and Outreach Fund at the Centre for Jewish Studies. This fund harnesses the power of education to fight hatred, giving scholars a platform to share important findings on the impact of anti-semitism.
In 2018, Tony Comper began auditing mediaeval studies courses at the University of St. Michael's College. Inspired by St. Michael's focus on excellence in humanities education, he established a significant bequest through the foundation to endow a teaching professorship in mediaeval studies in 2020. The visionary commitment was accompanied by a pledge of $140,000 a year so that the professorship could launch immediately.
Both Tony and Elizabeth Comper received the Order of Canada in 2010 for their community contributions, as well as the Hebrew University of Jerusalem's prestigious Scopus Award. The University of St. Michael's College has honoured Tony Comper with the Alway Award for high character and significant contributions to society, while the University of Toronto has bestowed Comper with an Arbor Award for volunteerism, and an honorary doctor of laws degree.
Through belief in the power of education and deep care for others, the Elizabeth and Tony Comper Foundation has supported important learning opportunities for students and research opportunities for scholars, contributing to greater insight, tolerance and justice in our world.