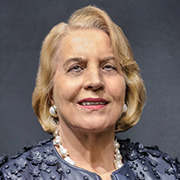 Elisabeth Hofmann
Elisabeth Hofmann's steadfast support of kidney-related research and scholarship at U of T's Faculty of Medicine honours her late husband, Gabor Zellerman, a pioneering engineer and an innovator in the field.
Elisabeth Hofmann, principal of Elisabeth Hofmann Holdings, has provided generous support for the field of nephrology at U of T's Faculty of Medicine. Her contributions honour her late husband, Gabor Zellerman, an engineer and inventor who held more than 50 patents for innovations in everything from hair colouring to medical instruments.
Gabor Zellerman was born in Budapest to a family with a long-standing involvement in medical equipment. At the age of nine, Zellerman was sent to a Nazi concentration camp, where he was stabbed in the leg by a guard for stealing two potatoes. After liberation, he walked back to Budapest.
After studying in Moscow on a scholarship, Zellerman returned to Budapest and worked as a biomedical engineer. He then escaped to Austria in the back of an ambulance and immigrated first to the United States, and then to Canada. Zellerman settled in Toronto, where he repaired medical equipment during the day and did research at night. It was his collaboration with U of T professor Dimitrios Oreopoulos that drew him into the field of nephrology. Together, they developed pioneering advances in peritoneal dialysis treatments, with innovations that still resonate in the field of nephrology.
After Zellerman's death, Hofmann assumed control of Accurate Surgical Instruments Corporation and turned the company into an international powerhouse. When the company was sold in 1998, 95 per cent of its sales were outside Canada.
To honour her late husband, Hofmann established the Gabor Zellerman Lectureship in Peritoneal Dialysis, and the Gabor Zellerman Chair in Nephrology Research at U of T. She also established the Elisabeth Hofmann Chair in Translational Medical Research. Today, both chairs and the lectureship attract world-class scholars to U of T's Faculty of Medicine, an ongoing tribute to her pioneering husband and to Hofmann's commitment to medical research.