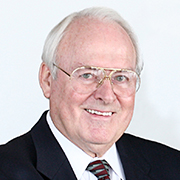 Dr. Marcel Desautels
Hon LLD 2003
Marcel Desautels' generous and widespread philanthropy was driven by his understanding of the power of higher education to transform lives and build better societies.
A talented singer, Dr. Marcel Desautels (1934-2023) put himself through law school at the University of Manitoba by performing at local weddings and funerals. After graduating, he went to work for the Great-West Life Assurance Company and later the Treasury Board of Canada and Creditel of Canada. During the 25 years of his leadership, Desautels built Creditel into the country's largest commercial credit and debt recovery bureau. When it was sold in 1996, he used the proceeds to launch the Canadian Credit Management Foundation, a non-profit organization that went on to give over $100 million to post-secondary institutions in Canada.
At the University of Toronto, Desautels generously supported the Rotman School of Management. Based on his senior corporate experiences, he saw an opportunity for a more innovative, integrative approach to educating leaders in management. Working closely with Rotman's senior leadership, he helped establish the Desautels Centre for Integrative Thinking, with a goal of bringing together internationally renowned scholars and thought leaders to push the frontiers of pedagogical innovation. Today, the centre is changing the way business schools teach, and developing some of the most enterprising minds in the field.
Desautels also funded numerous chairs, fellowships and capital projects at the Rotman School. He gave more than $41 million to the University of Toronto—a remarkable testament to his leadership and passion for re-imagining management education in the 21st century. A signature element of the Rotman Expansion is Desautels Hall, a stunning multi-functional space overlooking St. George Street. Named in honour of Marcel Desautels, this multifunctional space hosts classes, panel discussions, and gatherings featuring global leaders.
A committed volunteer, Desautels served as a member of the Rotman Entrepreneurship Advisory Board, a member of the Martin Prosperity Institute Cabinet, and Honorary Chair of the Boundless Campaign. In recognition of these contributions, the University awarded Desautels an honorary degree and an Arbor Award.
Beyond U of T, Desautels supported higher education across Canada, including transformational gifts to the Desautels Faculty of Management at McGill University and the Desautels Faculty of Music at the University of Manitoba. For his generosity and vision, he received numerous honours, including the Association of Fundraising Professionals Outstanding Philanthropist award, and the Order of Canada, the highest civilian honour bestowed by the Canadian government.