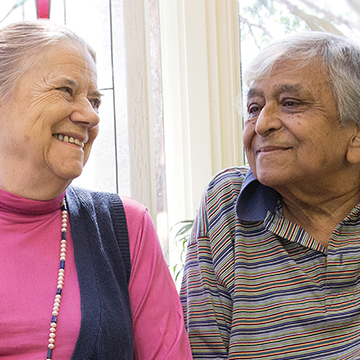 Dipak Mazumdar and Pauline Mazumdar
For more than 30 years, Dipak and Pauline Mazumdar have been generously supporting their respective intellectual passions: Bengali religion and literature, and the history of medicine.
Dipak and Pauline Mazumdar met in 1952, as students in London, U.K. What followed was two stellar careers—Dipak's in economics, and Pauline's in medicine and history—and a love story more than six decades long.
Today, Pauline Mazumdar is a Professor Emerita at the University of Toronto's Institute for the History and Philosophy of Science and Technology (IHPST), having retired in 1999 after 23 years of teaching. Dipak Mazumdar, who passed away in June 2018, spent his career as an economist at the World Bank, studying globalization and inequality. After his retirement, he was an adjunct professor at U of T's Centre for International Studies, wrote books about development economics, and in his spare time did English translations of the Nobel Prize-winning Bengali writer Rabindranath Tagore. Dipak's translations of Baudelaire from French into Bengali were a sell-out success in Calcutta.
The Mazumdars have been exceptionally generous donors to U of T. As far back as 1987, they started donating to both the IHPST and to a Bengali studies scholarship at New College. In 2004, they endowed the Pauline M.H. Mazumdar Chair in the History of Medicine, supporting the field to which Pauline devoted her life. And in 2018, the couple made a second planned bequest, to endow a chair in Bengali religion and literature, honouring Dipak's cultural background.
The Dipak and Pauline Mazumdar Chair in Bengal Studies will be a joint appointment between the Department for the Study of Religion and the Department of English, and examine the social, cultural, historical and political dimensions of Bengali life. The scholarship supported by the chair will be important for the Bengali diaspora, showing that their language and culture is taken seriously in academia and offering their children opportunities to study their own traditions and mother tongue.