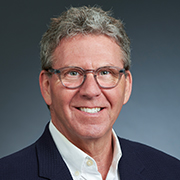 David Asper
LLM 2007
A successful lawyer, business leader and philanthropist, David Asper has helped establish U of T as an important centre for Canadian constitutional advocacy and legal education, thanks to his remarkable generosity .
Called to the bar in Manitoba in 1986, David Asper began his legal practice as a defence lawyer, successfully representing David Milgaard in one of Canada's most notorious wrongful conviction cases. Following his law career, Asper held several executive positions at CanWest Global Communications Corp., became a full time faculty member at the University of Manitoba Faculty of Law, and manages a portfolio of private equity investments.
Asper's philanthropy is evident as chair of The Asper Foundation and in his support for numerous causes, among them the establishment of the David & Ruth Asper Research Centre at the Pan Am Clinic Foundation and the David and Ruth Asper Early Learning Centre at the Rady Jewish Community Centre. A committed advocate for the City of Winnipeg, he chairs the city's police board and has funded endowments at the University of Manitoba, United Way of Winnipeg and the Jewish Foundation of Manitoba.
In 2006, he returned to law school at the University of Toronto, where he earned an LLM. Following his graduation, Asper contributed $7.5 million to the Faculty of Law to establish the David Asper Centre for Constitutional Rights—at that time, the largest contribution ever made by an individual to a law school in Canada. On the Asper Centre's 10th anniversary in 2018, he made an additional $2.5-million gift. The centre remains the only Canadian institution at which research, policy, advocacy and teaching related to constitutional law are brought together under one roof.
Asper has also served on the University's Governing Council, and he received an Arbor Award in recognition of his volunteer contributions. His lifelong commitment to defending human rights and the rule of law has defined his career, and this continues to shape and inform his generous support for the University of Toronto.